CUSTOMER EXPERIENCE
TRENDS IN HOTELS & RESTAURANTS AROUND THE WORLD
The customer experience is undergoing a profound change. Like many other sectors, hospitality has been directly impacted by e-commerce; it faces a hyper-informed consumer, who wants everything, right away. It's a real challenge that requires companies to transform their internal practices and their relationship with customers, on both physical and virtual levels.
How should brands address these new demands?
What is the role of the physical space in the customer experience?
How do brands elevate their guests' experience?
Mood Media has identified four major trends: Immersion, Convenience, Community, and Customisation, that will transform the physical moments between brands and their customers. These four trends help to better understand the upheavals of both hotels and restaurants.
Leveraging its global network of experts, Mood Media has chosen to compare the initiatives of major chains as well as independent actors, and both high-end and affordable companies. The result clearly shows how much the customer experience is continually evolving.
Brands have two very important tools at their disposal: art and play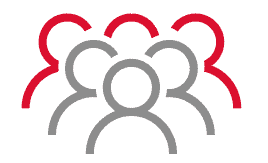 Brands are now closer to their customers' daily lives where they create real communities around them
Customisation takes many forms relying heavily on technology
Digitalisation has deeply renewed the approach to convenience, to better accommodate a customers' core needs