MAKE THE EXTRAORDINARY YOUR REALITY
Meet Technomedia. A specialized division of Mood Media. Creators of the most original, immersive and memorable media experiences in the world.
THEMED ENTERTAINMENT  |  BRAND ATTRACTIONS  |  HOSPITALITY  |  IMMERSIVE RETAIL  | AUTOMOTIVE  |  CORPORATE  |  "WOW" ENVIRONMENTS
CONTENT | DESIGN | INTEGRATION | SUPPORT
Create an original, immersive, and breathtaking experience. Partner with the industry's most creative and passionate visionaries. From consultation and design to installation, integration and service, we'll manage and support your entire project from end to end – anywhere in the world.
Ready to be blown away and inspired? Watch our video, dream big, and contact us today.
TECHNOMEDIA CAPABILITIES
The world's most complex media projects require deep experience and the most advanced capabilities. Our services and  specialties include, but aren't limited to:
Interactive Attractions
Holographic Exhibits
LED Sculpture & Technologies
Dome, 2D & 3D Theaters
Projection Mapping
On-board Ride Systems
Technical Fabrication
Water Screens
Film & TV Production
Pre-post Production
Audio Mixing
Media Content Services
Digital Signage
Mobile App Design
Augmented Reality/Virtual Reality (AR/VR)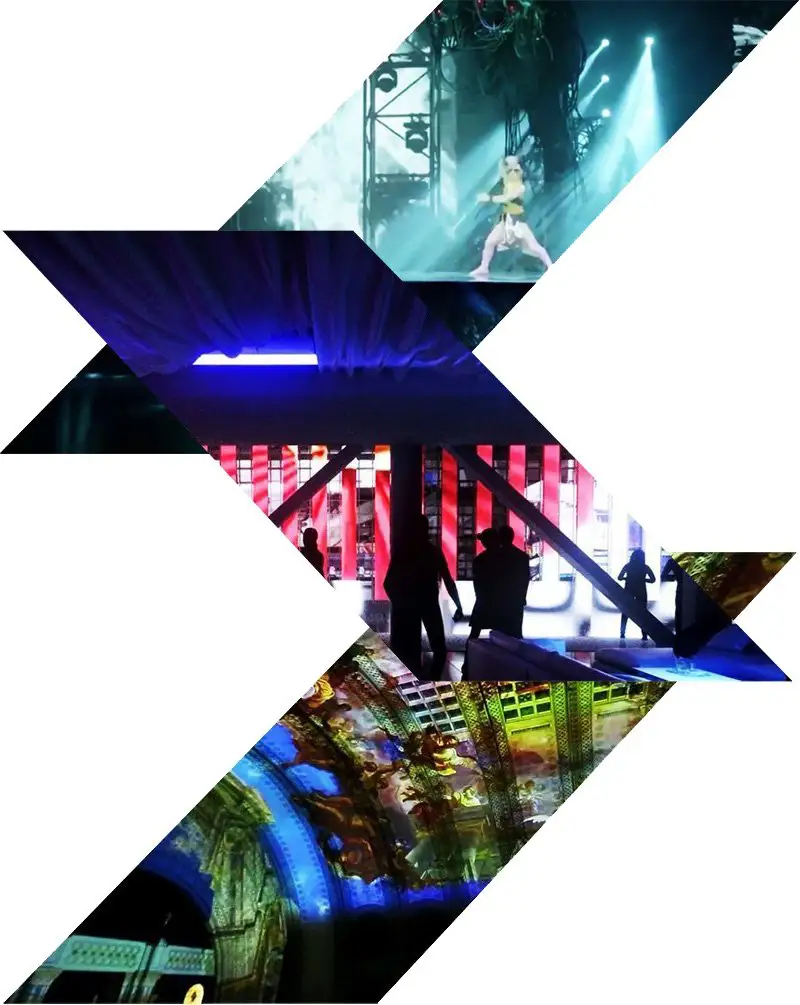 ADVANCED AV SYSTEMS
Technomedia creates experiences in the convergent worlds of IT and AV, allowing systems and storytelling to coexist. We design and develop non-linear media delivery systems that can be rules-based, data-driven and/or generative, allowing content management to be evergreen from day one.
DIGITAL MEDIA
Most LED systems are little more than over-sized signs or billboards. Not ours. We strive to bend, twist, tease and cajole traditional forms of visual expression into something new, wonderful, whimsical and above all else…we make them memorable.
PROJECTION MAPPING
When you really want to get visitors talking, projection mapping makes an impact like no other form of video. With this technology, HD video breaks free from the confines of even the largest displays to make almost anything a canvas for multi-media creativity and expression. Whatever the size or shape of the surface, this is "wow power" with amazing possibilities.
OUR
WORK
From luxury resorts and cruise lines to stadiums, flagship retail locations and entertainment venues, Technomedia has leveraged its expertise to bring such experiences to life at a countless number of the most renowned stages across the globe, including:
NBC–The Tonight Show
Carnival Cruise Lines
Columbia University
San Manuel Resort & Casino
Advent Heath @ Daytona Motor Speedway
Prisa Hotels
Pacific Mall
Museum of the Bible
Saks Fifth Avenue
Tianjin Stunt Show
Primark Stores
AT&T Stadium
NBC Grill & Brew at Universal Studios
Hard Rock Hotel and Casino, Atlantic City
NO CLIENT TOO SMALL,

NO PROJECT TOO BIG
In the big picture, the size of your company is irrelevant. No client is too large or too small for Technomedia. The only factor that matters is your willingness to dream big.
If you're looking to make an unforgettable impression, then Technomedia is for you.
If partnering with a true multimedia enthusiast matters, then Technomedia is for you.
If you're open to all of the possibilities, then Technomedia is for you.
THE HISTORY OF TECHNOMEDIA
Since its inception in 2002, Technomedia has collaborated with clients, architects and designers from all over the world, creating experiences that delight and inspire audiences of all ages. Formerly a sister company of Mood Media, today Technomedia is officially part of the Mood family – backed by Mood's fully integrated global service and installation network.
OUR VISION
We believe that media, in all its forms, is a platform for the expression of brand, a canvas that is limited only by the imagination of the community that it serves.
Our vision portrays a world in which systems and storytelling work together to push the boundaries of imagination. A world where IT and AV converge to bring stunning media experiences to life. We embrace this vision in everything we do and sweat every detail, from creation and design to integration and post-installation support.
CONTACT US
We thrive on innovative ideas and creating powerful solutions. Let's start the conversation. Let's dream.
"*" indicates required fields