PRIDE MUZIEK
Pride Month draait om acceptatie, gelijkheid, het vieren van het werk van LGBTQ+-mensen, onderwijs in de LGBTQ+-geschiedenis en bewustmaking van kwesties die de LGBTQ+-gemeenschap aangaan. Om deze belangrijke maand te vieren, wilden we enkele van onze music supervisors LGBTQ+ inspiratiebronnen, bondgenoten van de gemeenschap en queer populaire artiesten binnen de muziekindustrie in de spotlight zetten.
Charli XCX
door Jake Maracic (Music Supervisor)
Charli XCX maakt al een decennium lang dansvloerverpakkende jams. Samenwerken is key, en Charli maakt haar impact voelbaar door samen te werken met hitmakers als Haim en Selena Gomez, tot progressieve iconen als Sophie. Brutaal en lief, haar booming tracks blijven altijd in je hoofd hangen. XCX, een icoon voor velen, heeft altijd volgehouden hoe belangrijk de LGBTQ+ gemeenschap is geweest in haar muziekcarrière en leven.
Jake's Favoriete Tracks :
"Used To Know Me" – video hierboven
Extra nummers om te checken:
🎵 Boys
🎵 Gold Coins
Lucius
door Amy Frishkey (Music Supervisor)
Lucius wordt aangevoerd door de weelderige harmonieën, een dubbelganger en de levenservaringen van zangeressen Holly Laessig en Jess Wolfe, die de band uit L.A.- by-way-of-Brooklyn vormen. Hun muziek varieert van retro dance anthems tot contemplatieve folk, en hun laatste album, Second Nature, maakt momenteel van indie pop's best bewaarde geheim een hoofdbestanddeel voor het geleerde oor.
Amy's Favoriete Tracks :
"Dance Around It (ft. Brandi Carlile & Sheryl Crow)" – video hierboven
Extra nummers om te checken:
🎵 Something About You
🎵 Madness
Sylvester
door Spencer Manio (Music Supervisor)
Met die ongelooflijke kopstem werd Sylvester gekroond tot "Queen of Disco" en was hij een echte pionier wat betreft zijn trotse queerness in de muziekwereld. Hij was een uitbundige artiest met flamboyante flair en een androgyn uiterlijk, en had enorme wereldwijde hits van eind jaren 70 tot begin jaren 80. Nadat hij door zijn platenmaatschappij onder druk was gezet om zijn imago op te poetsen, ging hij uitdagend naar vergaderingen van de platenmaatschappij in vol ornaat om zijn bedoelingen luid en duidelijk te laten blijken. Hij overleed tragisch aan AIDS-gerelateerde complicaties in 1988. In zijn testament verklaarde hij dat alle royalty's van de toekomstige verkoop van zijn muziek aan goede doelen op het gebied van HIV/AIDS zouden worden gegeven. In 2019 werd zijn lied "You Make Me Feel (Mighty Real)" door de Library of Congress geselecteerd voor bewaring in het National Recording Registry omdat het "cultureel en historisch belangrijk" is.
Spencer's Favoriete Tracks :
"You Make Me Feel (Mighty Real)" – video hierboven
Extra nummers om te checken:
🎵Do You Wanna Funk?
🎵 I Need Somebody To Love Tonight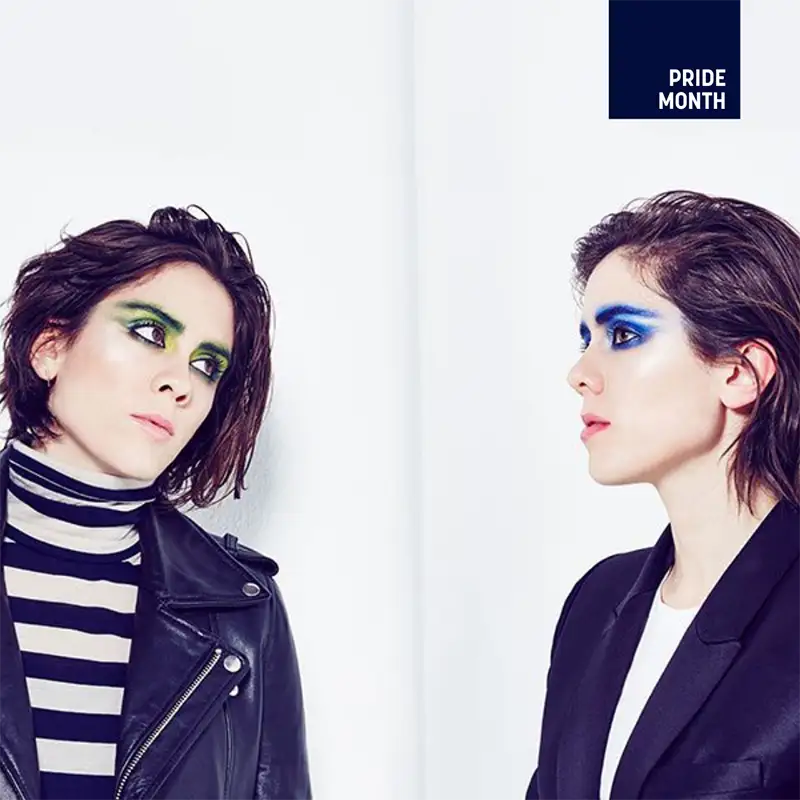 [Image Source: Pamela Littky]
Tegan & Sara
door Daniel Muff (Music Supervisor)
Meer dan 25 jaar later vertegenwoordigen Tegan en Sara nog altijd alles wat goed, leuk, belangrijk en…ahem…a-w-e-s-o-m-e! is in de wereld. De iconische eeneiige Canadese tweeling is van akoestische folk naar glanzende pop gegaan en weer terug (hun laatste album is een akoestische heropname van hun album 'So Jealous' uit 2004), terwijl ze nooit hun feilloze gevoel voor het maken van perfecte popsongs zijn kwijtgeraakt. Hun opgang is gestaag geweest en ze gingen van hun slaapkamer en middelbare school opnamestudio naar de Grammy's. Ze schreven een boek, begonnen een nieuwsbrief, en richtten in 2016 de Tegan and Sara Foundation op om LGBTQ+ meisjes en vrouwen te steunen. Openlijk homoseksueel en een uitgesproken sociaal en politiek activist, laat het duo geen gelegenheid voorbij gaan om zich achter minderheden te scharen en voor gerechtigheid te vechten. Hey T and S, we think we would like you if we met you!
Daniel's Favoriete Tracks :
"You Wouldn't Like Me" – video hierboven
Extra nummers om te checken:
🎵I Hear Noises
🎵 Back In Your Head