AFFORDABLE & INNOVATIVE TAPROOM SOLUTIONS
Differentiate your brewery and convert first-timers into full-fledged brand advocates. Whether you need the world's largest music library, stunning digital menu boards or affordable AV systems, Mood has you covered. It's all backed by local service and installation, and easy-to-use online platforms.
Go beyond the pint and quench your customers' thirst for an unforgettable experience.
PROUDLY SERVING BREWERIES & TAPROOMS OF ALL SIZES
Contact us today and join the Mood brewery family!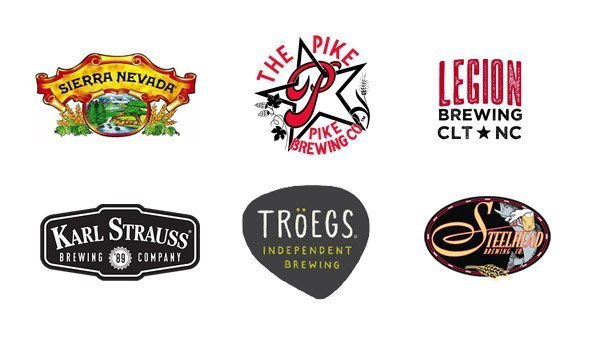 SOLUTIONS DESIGNED FOR BREWERIES
From Streaming Music and Custom Programming to On-Hold Messaging, Digital Menu Boards and AV, our solutions are specifically designed to differentiate your brewery and enhance your taproom experience.
LOCAL SERVICE & INSTALLATION
Local breweries need local support. Serving every U.S. zip code, Mood has you covered with reliable on-site service and professional installation – backed by responsive 24/7 phone and email support.
DEDICATED ACCOUNT MANAGEMENT & SUPPORT
When you partner with Mood, you'll have the dedicated, daily support of a team focused on your unique account, billing and service needs.
RELIABLE, INNOVATIVE AND INTUITIVE PLATFORMS
Our Music, Messaging and Digital Signage solutions are supported by reliable and innovative web-based platforms – providing you with intuitive control over what customers see and hear at your brewery
SINGLE-SOURCE PROVIDER
With our full suite of brewery media solutions, we make it easy and affordable to enhance the entire taproom experience. You'll consolidate vendors, mitigate risk and leverage economies of scale.
MUSIC
Choose from hundreds of professionally-designed signature programs or get hands-on and create your own custom playlists. Work with our professional Music Designers and create a fully-branded soundtrack that your customers won't hear anywhere else. Want a simple streaming music solution without a media player? We've got that too.
Reliable playback, 100% commercial-free
Intuitive mobile web-app control
The world's largest library of tracks and programs
Fully licensed and screened for business use
Multiple delivery options available – online, streaming, disc and satellite
BEER MENU BOARDS
Don't make your customers hunt for the beers they want. Set your brewery apart and boost revenue with beer menu boards from a true digital signage expert.
Choose from dozens of professionally-designed templates
Display ABV, IBU, SRM and images
Easily update and promote seasonals
Maximize screen space with multiple layouts
Display social media feeds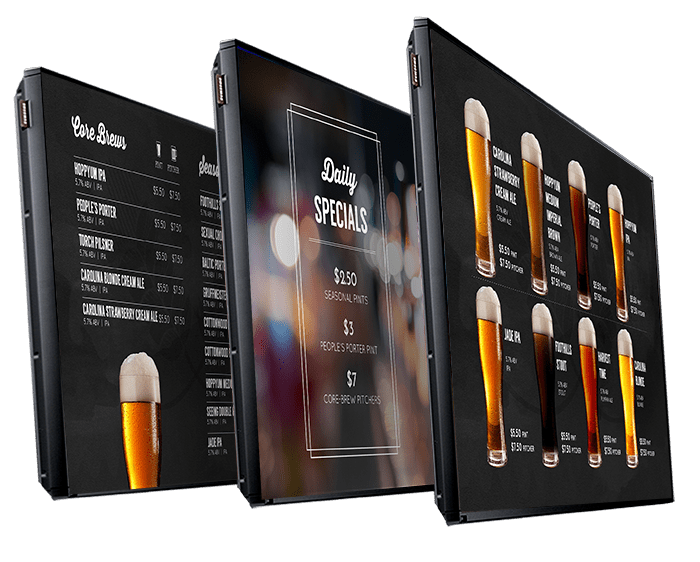 NEED CONTENT? LET US HELP.
Save time and money with the help of our Digital Signage content experts. We specialize in creating effective content and managing it for businesses of all sizes.
DIGITAL SIGNAGE
Go beyond the menu boards and bring your brand story to life. The possibilities are endless with Mood Digital Signage.
Tell the story behind your brewery
Educate customers on the brewing process
Promote special events
Support community initiatives
Recognize staff
Highlight special and seasonal beers
And much more!
WHY MOOD DIGITAL SIGNAGE SOLUTIONS?
Full-service provider: hardware, software, content, screens and mounting
Exclusive pricing on commercial-grade displays: Samsung, LG and others
Innovative technology
Fast and intuitive content management
Robust monitoring and reporting
Fast local service and installation
AV SYSTEMS
Complete the taproom experience with commercial-grade AV systems. Save hundreds with unbeatable pricing from the likes of Bose, Klipsch, Samsung and LG. Backed by professional systems design, local installation and service.
High-performance, commercial-grade equipment made affordable
Comprehensive warranties
Maximum peace of mind from the world's most experienced Audiovisual provider
ON-HOLD MESSAGING
Answer frequently asked questions, manage call traffic and reduce hang ups, increasing your ability to serve your customers' needs.
Enjoy dedicated consultation; copywriting available
Choose from dozens of professional voice talents
Integrate professionally-designed On-Hold Music beds
Easily manage and schedule Messaging online
SET YOUR BREWERY APART
Contact us today and see why more breweries are elevating the taproom experience with Mood.
"*" indicates required fields