MUZIEK ZOALS JIJ HET WILT.
Retail. Restaurants. Gezondheidszorg. Financiële Dienstverlening. (inter)nationale merken of lokale familiebedrijven. Verschillende bedrijven hebben verschillende behoeften. Wij zouden het moeten weten. We leveren tenslotte al meer dan 80 jaar muziek aan bedrijven.
KIES HET PLATFORM DAT BIJ JE PAST
Wil je de nieuwste streaming- of internetoplossing?
Hebben we.
Wil je niet afhankelijk zijn van een breedbandverbinding?
Geen probleem.
Heb je meerdere locaties?
Wij hebben oplossingen voor je.
Van internetgebaseerde apparaten en muziekstreaming tot satelliet, onze muziekleveringstechnologie is ontworpen om aan jouw specifieke bedrijfsbehoeften te voldoen. En als je behoeften na verloop van tijd veranderen, hebben wij ervaring met platformconversies en het opschalen van je huidige oplossing naar extra locaties.

IP/INTERNET
Systeem: Harmony
Ideaal voor: bedrijven die het nieuwste en het beste willen, extra betrouwbaarheid; bedrijven met meerdere locaties
Beveiligde breedbandverbinding
Meer controle over afspeellijsten
Grotere betrouwbaarheid
Minimaal verbruik van bandbreedte
Beheer van Muziek, Messaging en Digital Signage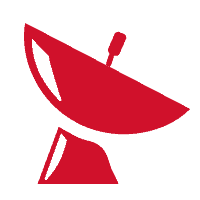 SATELLIET
Systeem: Encompass SR
Ideaal voor: bedrijven die op zoek zijn naar een disc- en internetvrije oplossing
Netwerkonafhankelijkheid
Geen breedbandverbinding
Geplande updates van content
Realtime contentfeed (satellietuitzending)
Betrouwbare back-up
Neem contact met ons op
Neem vandaag nog contact met ons op om het beste muzieksysteem voor jouw bedrijf te bespreken.
"*" geeft vereiste velden aan