Maak de beleving in je bedrijf compleet met 's werelds meest betrouwbare leverancier van commerciële AV-systemen. Ongeacht je behoeften, de grootte van je bedrijf of de complexiteit van jouw project, Mood helpt je met een professioneel ontwerp, deskundig projectbeheer en exclusieve prijzen voor apparatuur van commerciële kwaliteit.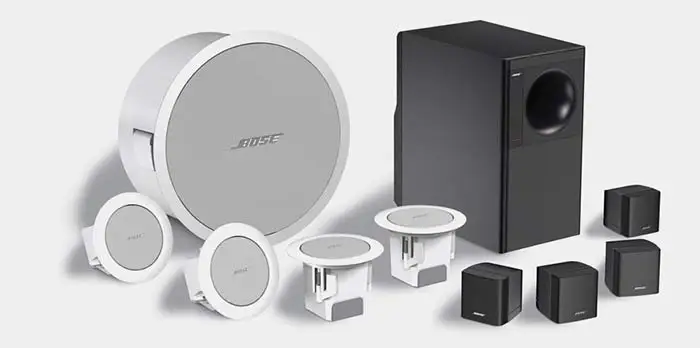 GELUIDSSYSTEMEN
Ongeacht waar het wordt afgespeeld, geweldige muziek verdient de beste kwaliteit dat komt met een professioneel ontworpen en geïnstalleerd geluidssysteem. Met professionele lokale installateurs en partnerschappen met toonaangevende leveranciers zoals Bose Professional en Apart, zijn wij in staat om uitzonderlijke commerciële geluidssystemen te implementeren voor elke behoefte, waar dan ook.
GEÏNTEGREERDE AV
Onze experts vereenvoudigen zelfs de meest geavanceerde AV-projecten. Van advies over het ontwerp tot de keuze van de aan te schaffen apparatuur, wij begeleiden je door het hele proces. Hoe groot of klein het project ook is, Mood levert end-to-end prestaties en support.
ADVANCED MEDIA SYSTEMS: TECHNOMEDIA
Technomedia is a specialised group within our Systems Team that combines the highest level of creative expertise with leading technology to develop highly customised media solutions. Mood Technomedia solutions represent the ultimate execution of our capabilities in the areas of digital audio-visual content, mobile marketing solutions, and interactive systems technology.
Explore the Possibilities
Onze diensten en specialiteiten omvatten:
Media- en Technologie Design en Integratie
Digital Agency Services
Interactieve aantrekkingskracht
Hologrammen voor exposities en presentaties
Dome, 360 en 180 2D en 3D Theaters
LED-technologieën
Ontwerp en creatie van mobiele apps
Digital Signage & Videonetwerken
Mobiele marketing en locatiegebaseerde technologieën
Muzieksystemen
Van internetgebaseerde apparaten en muziekstreaming tot satelliet en CD, onze muzieksystemen zijn ontworpen om aan jouw specifieke behoeften te kunnen voldoen. Hoe je jouw muziek ook wilt hebben, Mood biedt flexibele, betrouwbare en innovatieve platforms die ontworpen zijn voor zakelijk gebruik.
Sound Masking
Bescherm de privacy van klanten en patiënten, stimuleer de samenwerking tussen medewerkers, verhoog de concentratie en voldoe aan de HIPAA- en andere branchevoorschriften – kritieke factoren in medische, financiële, juridische en open kantooromgevingen.
CONFERENCE ROOM AV SYSTEMEN
Verhoog je prestaties, verbeter je vergaderingen en maak met vertrouwen verbinding dankzij de professionele AV-systemen voor conferentie- en vergaderruimtes van Mood Media. Leundend op decennia aan ervaring in het ontwerpen en installeren van commerciële av systemen, biedt Mood volledige gemoedsrust en ongeëvenaarde expertise om aan al je behoeften van kwalitatieve systemen voor conferentie- en vergaderruimtes te voldoen.
KOM IN CONTACT MET ONS
Verbeter je klantbeleving met de kracht van professionele audiovisuele oplossingen. Neem vandaag nog contact met ons op.
"*" geeft vereiste velden aan