Completați experiența în afacerea dumneavoastră cu cel mai de încredere furnizor de sisteme AV comerciale din lume. Indiferent de nevoile dumneavoastră, de mărimea afacerii dumneavoastră sau de complexitatea proiectului, Mood vă asigură o proiectare profesională, un management de proiect de specialitate și prețuri exclusive pentru echipamente de calitate comercială.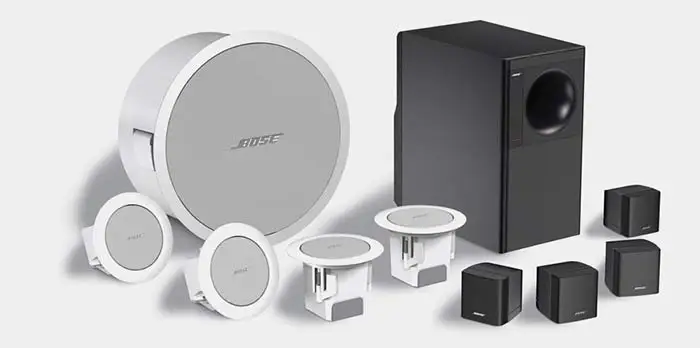 SISTEME DE SUNETARE
Indiferent de locul în care este difuzată, muzica bună merită calitatea înaltă oferită de un sistem de sunet proiectat și instalat profesional. Cu instalatori locali profesioniști și parteneriate cu producători de top precum Bose Professional și Klipsch, suntem capabili să implementăm sisteme de sunet comerciale excepționale pentru orice nevoie, oriunde.
A/V INTEGRAT
Experții noștri simplifică chiar și cele mai sofisticate proiecte AV. De la consultanță în materie de proiectare până la decizia de achiziționare a echipamentului, vă vom însoți pe parcursul întregului proces. Indiferent cât de mare sau mic ar fi proiectul, Mood oferă performanță și asistență de la capăt la capăt.
ADVANCED MEDIA SYSTEMS: TECHNOMEDIA
Technomedia is a specialised group within our Systems Team that combines the highest level of creative expertise with leading technology to develop highly customised media solutions. Mood Technomedia solutions represent the ultimate execution of our capabilities in the areas of digital audio-visual content, mobile marketing solutions, and interactive systems technology.
Explore the Possibilities
Domeniile noastre de expertiză includ
Design și integrare media și tehnologie
Servicii de agenție digitale
Atracții interactive
Expoziții holografice și prezentatori
Dome, cinematografe 360 și 180 2D și 3D
Tehnologii LED
Design și creare de aplicații mobile
Semnalizare digitală și rețele video
Marketing mobil și tehnologii bazate pe locație
Tehnologia de livrare a muzicii
De la dispozitive bazate pe internet și streaming de muzică la satelit și CD, tehnologia noastră de difuzare a muzicii este concepută pentru a răspunde nevoilor dumneavoastră specifice. Indiferent de modul în care doriți să vă ascultați muzica, Mood vă oferă platforme flexibile, fiabile și inovatoare, concepute pentru afaceri.
Mascarea sunetului
Protejați confidențialitatea clienților și pacienților, încurajați colaborarea angajaților, creșteți concentrarea și respectați HIPAA și alte reglementări din industrie – factori critici în mediile medicale, financiare, juridice și de birou deschis.
SISTEME AV PENTRU SĂLI DE CONFERINȚĂ
Stimulați performanța, îmbunătățiți-vă întâlnirile și conectați-vă cu încredere cu sistemele AV profesionale pentru săli de conferințe de la Mood Media. Având în spate zeci de ani de experiență în proiectarea și instalarea de sisteme de nivel comercial, Mood vă oferă o liniște deplină și o expertiză de neegalat pentru a răspunde tuturor nevoilor dumneavoastră în materie de sisteme pentru săli de conferințe.
CONECTEAZA-TE CU NOI
Îmbunătățiți experiența clienților dumneavoastră prin puterea soluțiilor audiovizuale. Contactați-ne astăzi.
"*" indicates required fields