Complete the experience at your business with the world's most trusted commercial AV systems provider. No matter your need, the size of your business or the complexity of your project, Mood has you covered with professional design, expert project management and exclusive pricing on commercial-grade equipment.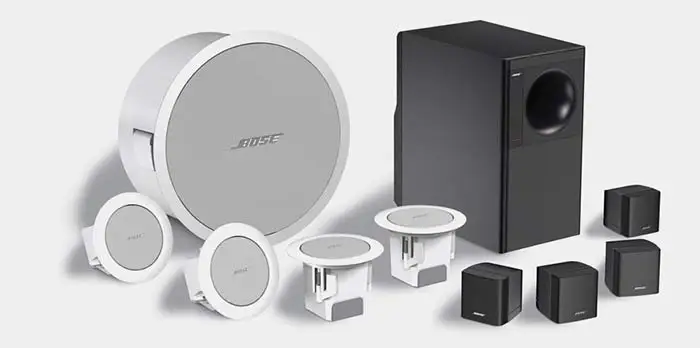 SOUND SYSTEMS
No matter where it's played, great music deserves the high quality that comes from a professionally designed and installed sound system. With professional local installers and partnerships with leading manufacturers like Bose Professional and Klipsch, we're able to implement exceptional commercial sound systems for any need, anywhere.
INTEGRATED A/V
Our experts simplify even the most sophisticated AV projects. From design consultation to deciding which equipment to purchase, we'll walk you through the entire process. No matter how big or small the project, Mood delivers end-to-end performance and support.
ADVANCED MEDIA SYSTEMS: TECHNOMEDIA
Technomedia is a specialised group within our Systems Team that combines the highest level of creative expertise with leading technology to develop highly customised media solutions. Mood Technomedia solutions represent the ultimate execution of our capabilities in the areas of digital audio-visual content, mobile marketing solutions, and interactive systems technology.
Explore the Possibilities
Our Areas of Expertise Include
Media and Technology Design and Integration
Digital Agency Services
Interactive Attractions
Holographic Exhibits and Presenters
Dome, 360 and 180 2D and 3D Theaters
LED Technologies
Mobile App Design and Creation
Digital Signage & Video Networks
Mobile Marketing and Location-Based Technologies
Music Delivery Technology
From internet-based devices and music streaming to satellite and CD, our music delivery technology is designed to meet your specific needs. No matter how you want your music, Mood offers flexible, reliable and innovative platforms designed for business.
Sound Masking
Protect client and patient privacy, encourage employee collaboration, increase concentration and comply with HIPAA and other industry regulations – critical factors in medical, financial, legal and open-office environments.
CONFERENCE ROOM AV SYSTEMS
Boost performance, enhance your meetings and connect with confidence with professional Conference Room AV Systems from Mood Media. Backed by decades of experience in designing and installing commercial grade systems, Mood delivers complete peace of mind and unmatched expertise to handle all of your conference room system needs.
CONNECT WITH US
Elevate your customer experience through the power of Audiovisual Solutions. Contact us today.
"*" indicates required fields