MUSIC FOR BUSINESS
Elevate your customer experience with fully-licensed, commercial-free music for business.
IN-STORE MUSIC THAT FITS YOUR BRAND
CRAFT THE SOUND OF YOUR BUSINESS
Music has the power to create emotional connections and engage your audience, build brand loyalty, and put your customers in the mood to buy.
Create your own branded mixes from the world's largest library of fully-licensed music for business use. Choose from hundreds of subgenres and fine-tune the sound to your liking. Ideal for those who want to fully curate their sound. Choose from 160+ professionally-designed playlists, each fully produced and regularly refreshed.
Industry's Largest Music Library
Endless options for every audience and industry. Fully licensed for business use.
Access to Professional Music Designers
Create a fully branded and unique soundtrack with our music experts.
Unmatched Control and Flexibility
Have as much or as little involvement and influence over your music as you'd like. It's entirely your choice.
INTUITIVE AND SECURE WEB-BASED PLATFORM
Whether you want to set it and forget it or take a hands-on approach, our proprietary software platform Harmony™ has you covered with unmatched flexibility and a world of programming options – all backed by the industry's most reliable and versatile streaming music for business technology.
Take complete control of your in-store music and media solutions with our end-to-end music system for business.
Secure. Reliable. Intuitive. Harmony makes managing your music easier than ever.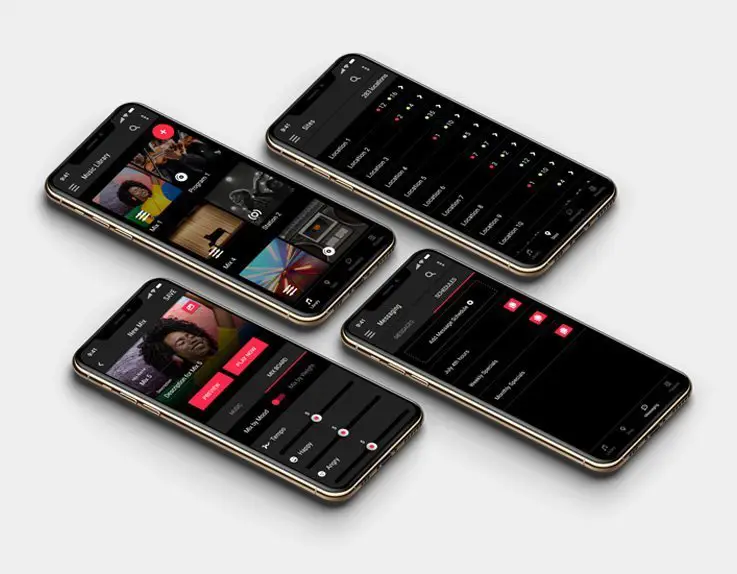 Maximum Reliability
Secure, reliable technology with minimal internet bandwidth usage and seamless playback.
Intuitive All-in-one Software Platform
Centralised & mobile-friendly content management system – no need for multiple vendors or multiple logins.
Global Support and Proactive Monitoring
We can help with physical hardware installation, provide maintenance and offer a global support network for quick resolutions.
FULLY DESIGNED
FOR COMMERCIAL USE
When it comes to background music for businesses, nothing compares to professional Music Solutions from Mood Media.
| | |
| --- | --- |
| Key Features | Music For Business by Mood Media |
| Fully-Licenced Music for Business Usage | |
| No Ads Or Interruptions | |
| Less Repetition – No Looping Of Playlists | |
| Filter Unwanted And Explicit Content | |
| Create Customised Schedules | |
| Personalised Playlists | |
| Reliable Connection | |
| Ability To Include Audio Messaging | |
| Mobile Control | |
MORE CUSTOMISATION, GREATER CONTROL
Access professionally curated music playlists from a wide range of music genres, or create your own branded mixes. The possibilities are endless and fully-licensed for business use.
Click below to listen to samples of our music for business.
MUSIC FOR BUSINESS FAQS
New to music for business? Here are some frequently asked questions to help you better understand this powerful marketing tool.
What is music for business?
Music for business is a service that provides licensed music for use in commercial spaces such as retail stores, restaurants, and offices. The service offers a variety of music options, including custom playlists and genre-specific channels, designed to create a specific atmosphere or mood within your business. Background music helps you create a unique and memorable experience for your customers while keeping your business legally compliant. You can even work with a dedicated Music Designer who will help you to
create a unique soundtrack for your brand
.
Why is music for business important?
Music can play an important role in enhancing the overall customer experience, improving customer retention, and increasing sales. It can help create a specific atmosphere or mood within your business, which can in turn influence customer behaviour and improve the overall shopping experience. Studies have shown that 78% of consumers globally cite "an enjoyable store atmosphere" as a key factor in choosing physical stores over online shopping. Additionally, our music for business service will help you comply with copyright laws, ensuring that you are playing fully licensed music in your commercial spaces.
How do I choose the right music for my business?
Choosing the right music for your business will depend on several factors, including the type of business you have, your target audience, and the atmosphere you wish to create. For example, if you run a high-end restaurant, you may want to choose more sophisticated and refined music to match the upscale atmosphere, while a high street fashion retailer might opt for more upbeat and popular tunes. Our music experts are on hand to help you select the perfect playlist for your space, working with you to identify the right genres, artists, and songs to match your brand and customer base. With the right music selection, you can ensure that your brand stands out and create an inviting and memorable atmosphere for your customers.
Do I need a music license for my business?
Yes, you need a music license to legally play commercial music at your business. By using music services designed for personal use you are in breach of licensing laws, avoiding licensing fees, and therefore your business could face hefty fines. You can read more about the importance of proper licensing here. Mood Music for Business provides licensed music that ensures compliance with copyright laws in the country or countries in which you operate.
How much is a music license for my business?
The cost of a music license for your business depends on several factors, including the size of your business, the number of locations, and the type of music you want to play. Additionally, licensing costs can vary by country, and may be influenced by factors such as local copyright laws and music industry regulations. Mood Music for Business provides a range of license options to fit different business needs and budgets, and our team of experts can help you navigate the licensing process in your specific region. Contact our sales team to get a quote for your business and location.
Can I customise the music for my business?
Yes, you can fully customise the music for your business by selecting specific playlists or genres that fit your brand. We also offer the ability to add custom messaging or advertisements to the music stream to engage your customers even more and even provide an extra stream of revenue for your business through third party ad integrations.
JUST SOME OF THE INDUSTRIES WE PROVIDE WITH MUSIC
MID-MARKET AND ENTERPRISE:
DISCOVER THE SOUND OF YOUR BUSINESS
Want to know what music is right for your business? Request a FREE Audio Identity Profile from our professional Music Designers, and get the scoop on what works best for your brand.
We'll pair you with a dedicated Music Designer who will work with you to create a unique soundtrack for your brand and personalised in-store radio station that's regularly updated. The result is a brilliant reflection of your brand and an unforgettable Customer Experience.
CONTACT US TODAY TO GET STARTED
Elevate your brand and customer experience with music.
"*" indicates required fields