ABOUT
MICROSOFT CUSTOMER HUB
A high-tech office and a welcoming customer hub, the entire new Microsoft Customer Hub in Amsterdam is a Customer Experience within itself. It provides a community environment for the brand's partners and customers where digital transformations take place, from strategy and design of the architecture, all the way to proof of concept.
The Customer Hub includes a restaurant, cafe, auditorium, co-working spaces for partners and customers, modern meeting facilities, a Customer Experience Center and an education space. Technology and human well-being were central to the new office design and were brought together through an approach that would be both meaningful and intuitive, in a natural, soft and highly diverse context that conveys the identity and legacy of Microsoft, their people, partners and customers.
CASE STUDY SUMMARY
Seaside Driftwood scent installed in the main entrance & lobby exit to the car park
A diverse music solution was implemented in the lobby
Alcas Music Master used to play song requests in the restaurant
OBJECTIVE
For their state-of-the-art Customer Hub, Microsoft were looking to provide a welcoming and engaging environment for their staff, partners and customers whilst also creating a space that reflected their two most important key values: diversity and sustainability.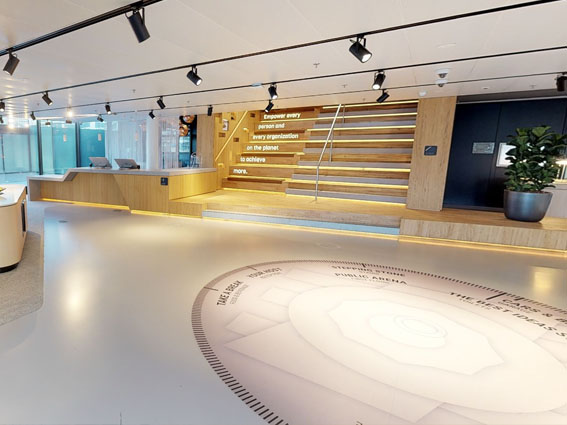 Mood implemented a scent marketing solution at the main entrance to the Hub and at the lobby exit to the car park. Visitors are welcomed to the scent of Seaside Driftwood, a relaxing & soothing aroma which encapsulates a seaside breeze, laced with woody notes of sun-washed driftwood.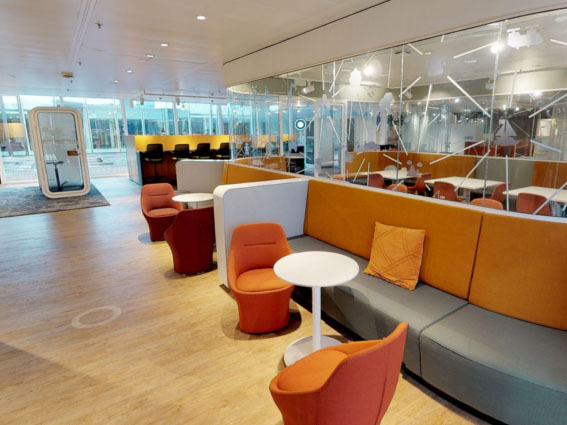 Microsoft wished for the lobby music to feel warm and homely, yet also reflect their key values. Mood music designers selected a diverse music program with a blend of pop, soul and folk influences which perfectly fit their expectations. Thanks to the newly equipped BOSE installation, controlled by Mood Profusion iH, the sound quality within the lobby is fantastic.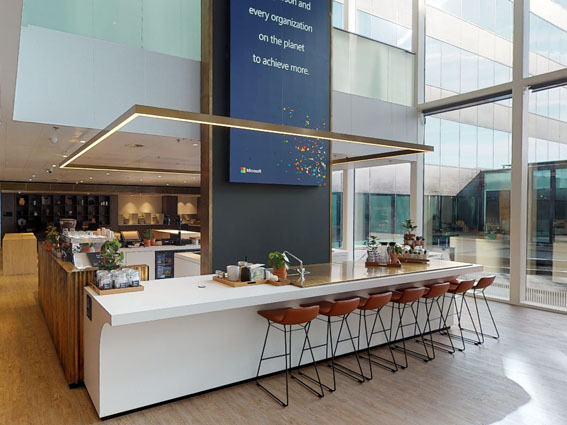 In the restaurant, music is played via Mood's Alcas Music Master, an online interactive music computer which gives employees the ability to tune and adjust the music playing, depending on the preferences of their customers and partners and the time or day in the week. Any song requests during the company's Friday Afternoon drinks tradition can be fulfilled easily and in an engaging and fun way!
RESULTS
"By using scent marketing in the main entrance, our guests and employees enter the hub feeling relaxed and calm, reflecting exactly the atmosphere we wish to evoke at Microsoft.
The background music also makes people happier, and offers a social yet homely feeling to both the lobby and restaurant."
– Gea de Bruijne
Hospitality Manager for Real Estate & Facilities, Microsoft (Schiphol, The Netherlands)
CONNECT WITH US
Elevate your customer experience. Contact us today.
"*" indicates required fields