MOOD:COMMERCIAL GRADE SCREENS
LED & LCD SCREENS
TRUSTED BRANDS
EXCLUSIVE PRICING
An engaging visual experience begins with high performance commercial grade screens. Whether its the latest LED screens or LCD panels, get the innovative technology your business needs from leading manufacturers at industry best pricing. We back it all with comprehensive warranties, local installation and responsive on-site service.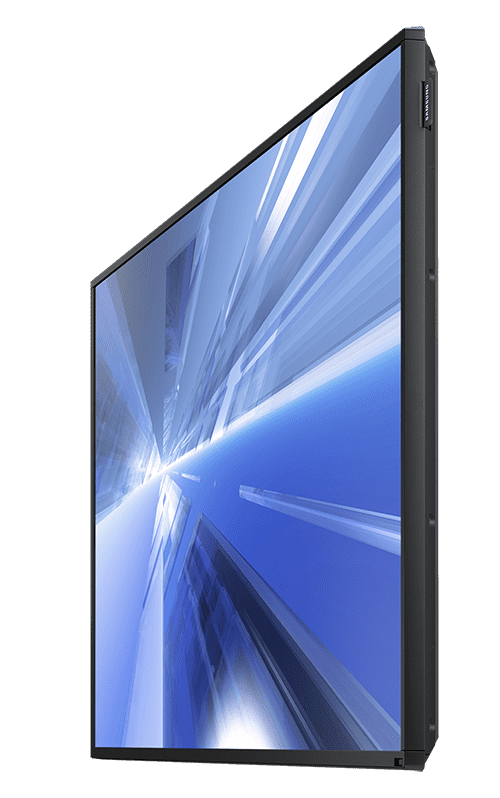 The HD TVs you use at home are fine for watching movies and the big game, but they're simply not designed to handle the demands of a business use.
The most important reasons to use commercial-grade screens at your business include:
MORE RELIABLE
Consumer-grade screens are made to run for roughly 6 hours a day, while most commercial screens are designed to run either 16/7 or 24/7. They typically have additional fans that help vent the heat produced from extended use.
Using a consumer display in your business will dramatically reduce its life – minimizing your investment. Additionally, the warranty on a consumer screen will be null and void if the display is used in a commercial setting. Simply put, commercial-grade is much more reliable and a much better investment.
SAFE FROM DUST & GREASE
Commercial-grade screens are built with protective casing to prevent dust and grease from coming in contact with critical components of the display.
FULLY-COMPATIBLE WITH MEDIA PLAYERS
Commercial displays are fully compatible with external media players and will broadcast any signal that is being sent to them without interruption. Consumer-grade screens do not have these features built in and may shut off periodically due to their protective features.
MORE VIDEO INPUTS
Commercial screens come with a wide range of video inputs required for in-store media, including multiple HDMI inputs, HDCP, RGB (Analog, DVI, Display Port), composite video, etc. The screens you use at home do not.
SMALLER BEZEL SIZE
Bezel sizes are much smaller on commercial-grade screens, offering a much sleeker look.
MORE SECURE
Business models usually have covers over the controls in order to prevent customers from tampering with the screen.
BETTER PICTURE
Commercial-grade screens have more advanced resolution options that you don't get with consumer models. They are also brighter than consumer-grade screens.
RESISTANT TO BURN-IN
Burn-in is what you call an image that is burned into your screen after being displayed in the same position on the screen for an extended period of time. Commercial-grade screens are more resistant to this unsightly type of wear-and-tear.
ORIENTATION OPTIONS
Commercial screens offer the ability to display content horizontally, vertically or diagonally. Consumer TVs don't.
CONVERTIBLE TO TOUCHSCREENS
Many business displays are also able to be used as touchscreens with the addition of a touch overlay. It's an affordable way to turn your display into an interactive digital signage solution – without having to buy a new display.
NOTE: There are also fully-interactive commercial displays available in all sizes.
MANDATORY FOR VIDEO WALLS
Commercial screens can be daisy-chained together in order to create a video wall – consumer screens don't offer this capability.
POWER-EFFICIENT
Commercial displays use less power than consumer-grade screens, both in "on" and "sleep" modes.
ANTI-GLARE
Commercial-grade screens are made with anti-glare glass in order to ensure the best possible picture.
TYPES OF SCREENS – DEFINED
LED? LCD? What does it all mean? Commercial-grade screens come in a variety of types and sizes, each designed for different uses.
LED (light-emitting diode).
Direct-view LED screens are the most common type of displays used for business applications. They're ideal for
digital signage
,
menu boards
, TV and
Mood TV
.
LCD (liquid crystal display). LCDs are best for video walls. They're typically much larger than LED screens, and are more similar to large projectors. If you don't want the "tiled look" from chaining multiple LED screens together, you can go with one large LCD in order to create a seamless display.
Interactive screens. Specially-designed LCD screens that allow touchscreen functionality.
OUR PARTNERS
We're proud to have long-standing partnerships with the major screen and LED manufacturers. The result is unbeatable pricing and exclusive access to a full range of high-performance screens to meet your needs.
Whether you need screens for a single location, bulk quantities for your entire network or something in between, we have you covered with fast fulfillment and cost-effective rates.
ANY INDUSTRY, ANY BUSINESS APPLICATION
Commercial-grade screens are the best option for use in any business setting. Ideal applications include, but aren't limited to:
Restaurant/Bar
Retail
Hospitality
Fitness
Automotive
Healthcare
QSR/Fast Casual
Large venues/houses of worship
Back-of-house/workplace digital signage
SOFTWARE-ON-CHIP (SOC) TECHNOLOGY
Digital signage solutions perform best when they're supported by a robust external digital signage player. However, many leading manufacturers are producing commercial displays with embedded media players. Our CMS platform is compatible with many of these embedded players, and we're happy to explore the options with you. Contact us to learn more.
PROFESSIONAL SERVICE & INSTALLATION
Whether you need a single screen mounted, a complex video wall installation or have a project in between, you'll have the support of our global service network of local AV professionals. We also offer and install robust screen mounts designed for business use.
LET'S TALK
Contact us today for a free, no-risk consultation and get the right screens for your business and your budget.
"*" indicates required fields