HOW GYMS CAN IMPROVE THEIR
MEMBER EXPERIENCE
Flex Your Multi-Sensory Muscle
As with the start of every new year, people make resolutions to lose weight and stay fit. But as we see a huge influx of new members joining gyms and fitness clubs, the question becomes – how do you keep them from quitting?
A recent study shows that 84% of respondents say they would return to a business with a pleasant atmosphere. To reach a higher level of loyalty with your gym members, you need to begin engaging them on a multi-sensory emotional level and appeal to their preferences for on-site experiences.
That's where on-site media solutions come into the picture. Effective and strategic use of a variety of media solutions can be instrumental in laying the groundwork for lasting brand loyalty. When you play the music that gym members love and captivate them with digital signage – that's when your members feel like your gym is "their kind of place".
To increase gym membership, you need to create a fully-branded on-site fitness experience that drives lasting results. Boost your business with the right sights, sounds and scents to inspire the necessary level of member loyalty it takes to transform your gym into their gym.
Keep members engaged
Inspire deeper brand loyalty
Stand out from the competition
#1 THE BEST MUSIC FOR YOUR GYM
Music has always been an essential element of the fitness experience. And when it comes to personal growth and development, music means more to today's clientele than ever before. But frankly, generic programming isn't going to do much to engage your members or differentiate your business.
Playing a custom music program – or several programs – is the ticket to connecting with your unique members on a deeper emotional level, while providing a sound that they won't hear at any other business. When you work with an experienced custom music designer, they'll take the time to learn about your brand, your core values, and the type of experience you want to create for your members. They'll also want to know specifics about the lifestyle and demographics of your target clientele. These are the factors that will enable the designer to curate a truly branded program that your members will talk about.
Stay away from consumer-based streaming platforms that leverage algorithms to generate your programming. Algorithms may seem smart, but they can't provide the level of customisation and nuance that will enable you to give your members a true sense of belonging. Additionally, the music that these platforms provide is not commercially licensed for business use, which means you can't legally use them. If caught, fines can be surprisingly staggering and quite detrimental to your business.
Indeed, choose from hundreds of professionally-designed signature programs, or get hands-on and create your own custom playlists. You can even work with our Music Design experts to create a fully-branded soundtrack that your members won't hear anywhere else.
What are the benefits of music for business?
Intuitive mobile web-app control
100% commercial-free
Fully licensed and screened for business use
Carefully curated to bring your brand to life
#2 ENTERTAIN GYM MEMBERS WITH DIGITAL SIGNAGE
It's a simple fact – humans are visual by nature. That's why more and more brands are leveraging various types of digital signage to enhance the shopping experience, improve efficiency and drive huge sales results.
With digital signage you can provide stunning visuals to capture the attention of your members that can be used to advertise products and services, inform members of class schedules, or entertain with television programs.
Using a traditional cable or satellite television provider leaves you vulnerable to showing unwanted content and even commercials for your competition. But with a digital signage provider, you can monitor and control the content you show to entertain guests, all while reinforcing your own brand identity.
Digital signage in your gym also empowers you to ensure your members are fully aware of all rules, regulations, and safety measures in place throughout the fitness center, giving you the ability to update communications quickly and effectively.
Finally, digital signage is also an outstanding tool in break rooms or back-of-house warehouse areas for employee engagement, recognition and training. You can provide safety tips, post job listings, display training videos and much more.
Of course, one of the most attractive benefits of digital signage for marketers is that you can update it automatically when it's backed by a web-based content management system. From that single benefit, you'll also be able to reduce your reliance on traditional static signage, which in turn means lower print costs.
To learn more about implementing digital signage at scale, read Digital Signage for National & Global Brands. This comprehensive guide explores the essentials you'll need to know for developing and implementing an effective digital signage strategy across your organisation.
Get your members' attention like never before and drive big results across your footprint. From Menu Boards and Mood TV, to Video Walls and Employee Engagement, the possibilities are endless.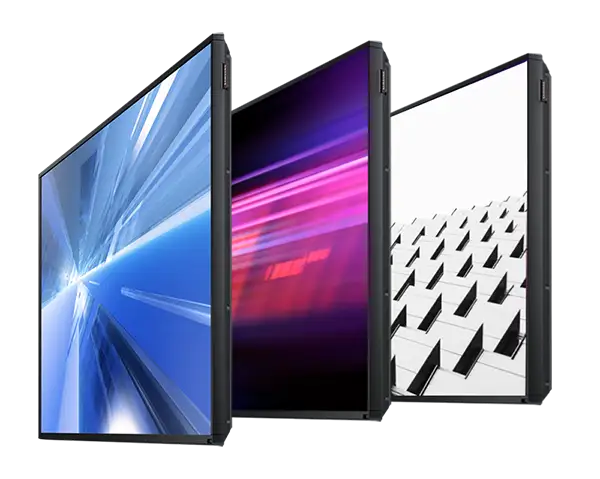 Why use professional TV screens for gyms?
Custom and branded visuals
No competitor ads or unwanted programs
User-friendly online content management
#3 INFORM WITH FITNESS FOCUSED AUDIO MESSAGES
Even with the rise of digital signage and the ever-changing nature of the on-site experience, on-hold and overhead messaging remain highly effective tools for informing listeners and driving sales. Leaving callers on-hold in silence is a wasted opportunity. And asking employees to manually record on-hold messages and make live overhead announcements over the PA system is not an effective, consistent, or professional approach.
At a minimum, your on-site and on-hold messaging should have a professional voice that sounds like your brand to welcome guests, provide useful information, answer frequently asked questions, and boost promotions, all while smoothly transitioning in and out of music.
While you want a consistent voice and some consistent core messages, having localised, site specific messaging is also recommended to create an even more personalised, local experience. We recommend working with a professional messaging provider to ensure that your messaging solutions fulfil these requirements.
Why use messaging?
Increase awareness of products and services
Manage call traffic, provide hours of operation
Invite customers to visit social channels and websites
#4 THE RIGHT AV SYSTEM FOR LARGE ROOMS
It may seem sensible to go for a low-cost AV System, but it's not ideal to cut corners on these components. Commercial-grade speakers and screens are essential for ensuring that your Music, Messaging, and Digital Signage systems are effective.
It can be difficult to get clear and understandable sound inside of a fitness center. Large open spaces, high ceilings, and concrete floors all make for a sound environment that is loud and echoey.
Working with a professional AV provider that offers local service and installation takes the heavy lifting off of your shoulders. To get the high quality sound you need in the gym environment, expert consultants can analyse your space and provide you with the right design for optimal sound.
And in the event that a speaker or screen goes down, you want to have the peace of mind of knowing that you can have such issues resolved in a timely fashion.
It's important to remember that the consumer-grade screens you use at home aren't designed for use in business environments. They aren't made to run for 12-15 consecutive hours a day and they don't have structural casing in place to withstand wear and tear from excessive dust, heat, and humidity.
On the other hand, commercial-grade screens come with a protective casing and are designed to run all day and night. They also come with robust warranties that you don't get with consumer products.
When it comes to commercial-grade AV systems, you need comprehensive solutions your business can depend on. We bring you innovative technology and robust hardware combined with our experience and expertise. From design to installation, Mood Media has your back every step of the way.
Are there benefits to professional AV Systems?
World class partners including Bose, JBL, Crestron, & Samsung
Affordable and dependable
Comprehensive warranties
Reliable local service and support
#5 SCENTS SOLUTIONS FOR THE LOCKER ROOM
The power of scent in a gym is undeniable. For the most part, the scents are unpleasant, even if completely natural.
So how do you get your gym to smell better?
A professional scent diffusion system can enhance the workout experience by masking or eliminating unwanted and unpleasant odors.
Additionally, you'll also want to leverage scent marketing to keep the restrooms and locker rooms smelling fresh between cleanings. Eliminating odours will not only provide a sense of health and safety, but the added touch will go a long way to making a great impression on your members.
A professional scent provider can even help you develop a custom scent unique to your brand. This allows you to harness the power that scent memory has on the olfactory system to create an unforgettable scent that your members will associate with your business.
Learn more about the many possibilities and potential of Scent Marketing to create an even more memorable sensory experience.
Want your gym to smell better?
Choose from more than 1,600 refreshing and invigorating scents
Create your own branded fragrance.
Cover spaces from 500 to 100,000 sq. feet
Innovative technology from ScentAir
Creating a signature Brand Experience with Music, Messaging, Scent and Digital Signage has never been easier.
Don't think of your media solutions as a bunch of separate tools. Instead, make sure they're integrated and working together towards the same goal – boosting sales, building loyalty, improving efficiencies and elevating the workout experience for your gym members.
To learn more about Elevating the Member Experience, contact us today. We help dozens of leading brands across the globe Enhance the Experience for their customers by building their brand engagement and generating lasting loyalty. And we have the expertise and effective solutions to help you do the same.
CONNECT WITH US
Contact us today and elevate the customer experience at your business.
"*" indicates required fields