MOOD:HEALTHCARE DIGITAL SIGNAGE
BUILD TRUST
BOOST EFFICIENCY
ENHANCE CARE
Engage your patients, build trust and differentiate your practice with Mood Healthcare Digital Signage solutions.
From waiting room signage and patient queues  to digital wayfinding, staff communications and more, Mood offers a variety of powerful applications for practices of any type and size.
Visually engage patients to educate and inform more effectively
Control the waiting room experience, eliminate inappropriate content
Promote your practice and partnerships
Share health and wellness tips
Communicate with staff more efficiently
Easily update content in real time
See the power of healthcare digital signage at every stage of the Patient Experience.
WHAT CLIENTS ARE SAYING ABOUT
MOOD HEALTHCARE DIGITAL SIGNAGE
"Why did I choose Mood? It's simple. Quality, service and convenience. I highly recommend Mood to any healthcare provider who wants to create an exceptional patient experience."
– Dr. Amit Ganglani, D.M.D.
Fresh Dental
END-TO-END SOLUTIONS
Mood can cover all of your healthcare digital signage needs – hardware, software, professional content management and development, screens, installation and service.
MOBILE-FRIENDLY ONLINE CONTROL
The Mood Harmony™ audio & visual platform makes it easy to manage your Patient Experience at any number of locations.
IN-HOUSE DESIGN & CONSULTATION
Our healthcare signage experts provide solution design and consultation on content strategy and screen placement to help you get the most out of your digital signage.
ANY APPLICATION ANY PROJECT ANY SIZE
From single-unit waiting room displays to digital wayfinding, menu boards and large LED video walls, no project is too big, too small or too complex.
FOR PROVIDERS OF ALL SIZES
Independent providers, regional hospitals and globally-renowned healthcare brands trust Mood for their digital signage needs.
CONTENT DEVELOPMENT & MANAGEMENT
Our in-house team of healthcare content specialists can create and manage content on your behalf.
LOCAL SERVICE & INSTALLATION
Get fast on-site service and professional installation in every U.S. zip code. It's all backed by responsive 24×7 service by phone and online.
MORE THAN JUST DIGITAL SIGNAGE
Elevate the entire Patient Experience with our solutions in Music, Messaging, Scent Marketing, AV Systems and Sound Masking.
POWERFUL SOLUTIONS FOR EVERY HEALTHCARE PROVIDER
No matter the size of your practice or type of care you provide, Mood's innovative healthcare digital signage solutions will help you enhance the patient experience. Our clients include:

REGIONAL HOSPITALS & HEALTHCARE NETWORKS




IMAGING & RADIOLOGY AND MUCH MORE
DIGITAL SIGNAGE FOR HOSPITALS AND REGIONAL HEALTHCARE NETWORKS
WHITEPAPER: HOW TO IMPROVE THE PATIENT EXPERIENCE WITH HEALTHCARE DIGITAL SIGNAGE
Leverage Mood Healthcare Digital Signage to elevate the experience throughout your facility.
IMPACT

AT EVERY TOUCHPOINT
Leverage Mood Retail Digital Signage to drive results at any touchpoint throughout your Customer Journey.
DIGITAL WAYFINDING
Leverage hospital wayfinding to help patients and visitors get to the right place as quickly as possible. Simplify navigation, ease potential anxiety and make a great impression.
DO MORE WITH WAYFINDING BOARDS
Choose from a library of professional templates to do more on your wayfinding screens.
Share health tips
Communicate social distancing and mask reminders
Provide immunization & check-up reminders
Feature RSS feeds: news, weather
And much more!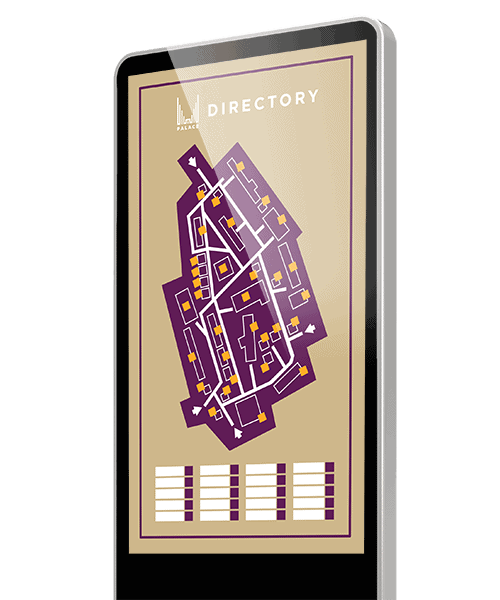 WAITING ROOM EXPERIENCE – MOOD TV FOR HEALTHCARE
Take control of your waiting room TV with Mood TV for Healthcare. Entertain and inform your patients while promoting your practice – all on the same screen.
This hybrid digital signage and television solution lets you do it all, featuring short-form TV programming alongside a branded screen wrap with space for customizable content.
Entertain with popular family-friendly programming
Reduce perceived wait times
No negative news programming or inappropriate content
Display patient queues, weather and news tickers
Simple web-based control for quick updates
Less than cable!
CAFETERIA DIGITAL MENU BOARDS
Improve menu visibility in the cafeteria and reduce print costs with digital menu boards for hospitals.
Highlight menu items
Promote daily, weekly and monthly specials
Display nutritional information
Update content and pricing instantly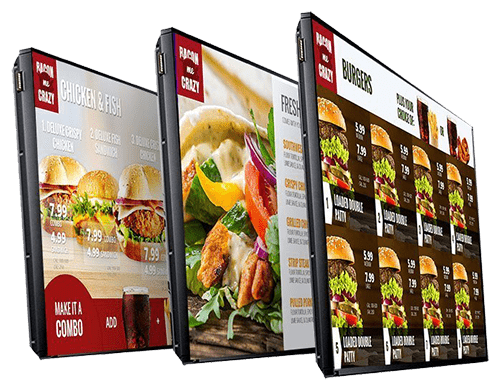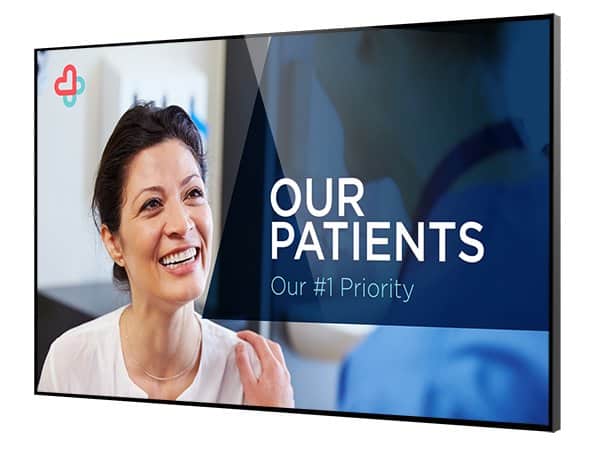 EMPLOYEE COMMUNICATIONS
Boost morale, simplify and position your staff to provide the best care with Workplace Digital Signage solutions.
Highlight staff and team achievements
List goals and daily objectives; motivate staff
Post corporate announcements and events
Reinforce training
SAFETY & ASSURANCE
Provide patients with greater peace of mind. Use digital signage to highlight cleaning efforts, communicate social distancing best practices and create greater assurance throughout your facility.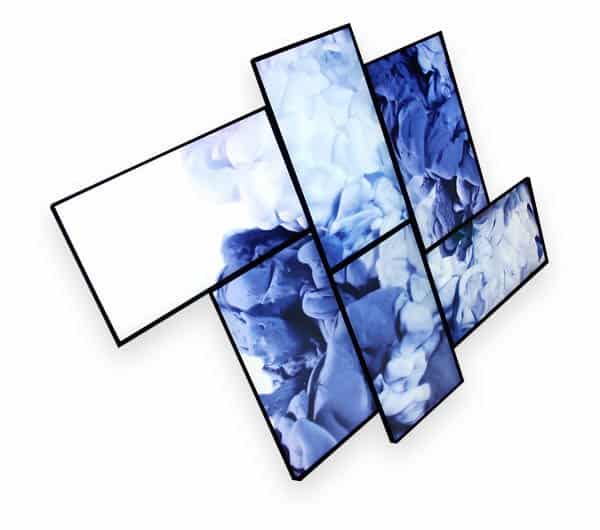 VIDEO WALLS & LED APPLICATIONS
A stunning video wall is a great way to provide a refreshing moment of delight and inspiration for patients and their families.
Partner with our in-house team of LED and video wall specialists to bring your vision to life. Whether you want tiled displays with multiple screens, large single-unit LEDs or a solution in between, Mood has the unmatched experience and professional in-house resources you can rely on.
In-house design, engineering and consultation
Longstanding partnerships with leading LED manufacturers
Professional installation and service anywhere in the world

INTUITIVE HEALTHCARE DIGITAL SIGNAGE SOFTWARE
Take control of what shows on your screens with Mood Harmony. Our secure and intuitive online content management system makes it a breeze to manage content at any number of locations.
Quickly update in real time, schedule content, apply dayparting and segment content by facility or groups of facilities – all with a few simple clicks. You can also manage your Music and Messaging from the same portal – no need for multiple logins. Harmony is the industry's best digital signage software, giving you maximum control over your Patient Experience.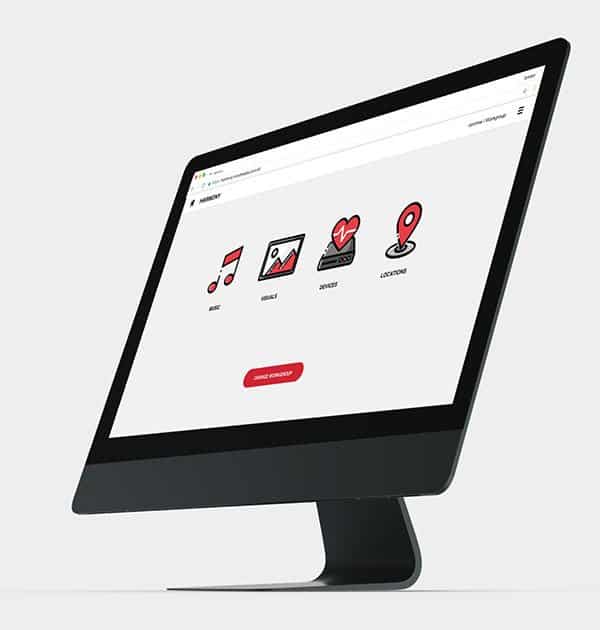 FLEXIBLE PERMISSIONS
Harmony makes it easy to ensure that the right content is played at the right place, and at the right time. Provide facility management with access to specific screens and give corporate users control over content across your entire footprint. Define and set permissions to best suit the way your organization works.
SYSTEM-ON-CHIP COMPATIBILITY
Mood Harmony is compatible with many system-on-chip (SoC) displays, enabling you to simplify installation and eliminate the need for an external media player.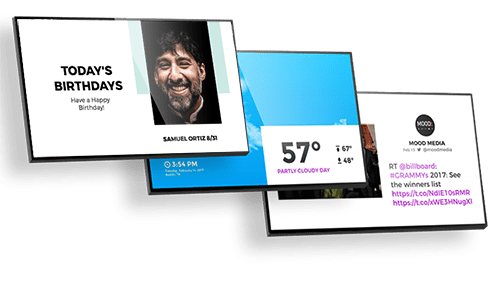 HEALTHCARE DIGITAL SIGNAGE TEMPLATES
Choose from a wide selection of sleek professional templates for a variety of layouts, including L-wraps, multi-zone configurations and full-screen options. Or work with our visual experts and let us create a custom, fully-branded template for you. The possibilities are endless with Mood.
IN-HOUSE CONTENT STUDIO
Content is still king when it comes to healthcare digital signage. That's why we have an in-house team of creative content experts specializing in designing engaging and effective custom content solutions for healthcare clients.
Our in-house department of creative professionals offers full-service, custom content development, including graphic design, film, motion graphics/animation/3D, and photograph – for video, mobile or web applications. Additional capabilities include social media interaction, live content streaming, RSS feeds, touch screens and more.
THE DIFFERENCE IS OUR STRATEGIC APPROACH
Effective visual design is about more than reliable equipment, innovative technology and captivating graphics. We take a strategic approach to healthcare digital signage, considering your patients, facility layout and key business objectives to create an impactful Patient Experience.
PROFESSIONAL CONTENT MANAGEMENT
Mood Digital Signage is user-friendly, but managing content for a regional, national or global footprint can be demanding. Our experts can manage and schedule all of your digital signage content for you – so you can focus on your patients.
COMMERCIAL-GRADE SCREENS

INDUSTRY-LEADING PARTNERS
Consumer-grade screens may work for your home, but they don't offer the reliability and performance needed for business use. Mood is proud to offer commercial-grade digital displays, video walls and mounts from industry-leading partners.

Designed for 12+ hours of usage per day
Rugged hardware = longer lifespan
Built-in cooling mechanisms for maximum performance
Robust manufacturer warranties and Mood protection plans available
Professional mounting and installation
INNOVATIVE HEALTHCARE TECHNOLOGY
More and more healthcare providers are seeking the latest digital signage technology, including System-on-Chip, Dual-faced Window Displays and Interactive Touchscreens.
Through our longstanding partnerships with industry-leading manufacturers, we're able to provide competitive pricing on innovative healthcare digital signage displays. Buy in bulk and maximize your investment.
DIGITAL SIGNAGE FOR NATIONAL & GLOBAL BRANDS
Learn everything you need to know to effectively implement digital signage across your entire footprint.
ENHANCED CARE. ELEVATE THE PATIENT EXPERIENCE.
Provide a better Patient Experience with Mood Healthcare Digital Signage. Contact us today to get started.
"*" indicates required fields