ABOUT
VANS
Under the umbrella of VF Corporation, Vans is the original action sports footwear company, rooted in authenticity and creativity. Founded in 1966, the brand has thrived on a legacy of impacting their greater community through four pillars: action sports, music, art and street culture.
Coinciding with its global brand initiative to revamp the brick-and-mortar Customer Experience, streetwear brand Vans opened a 4,714 sq. ft store at the heart of Oxford Street, London – now the brand's largest store in Europe.
CASE STUDY SUMMARY
Music playlists curated exclusively for the brand
Range of high brightness and indoor LED walls installed
Large display screens across the store
Full remote access to all implemented hardware within the store
Bose RoomMatch sound system
OBJECTIVE
With a focus on creativity, individuality, inclusivity, experimentation and transparency, all key values to the Vans brand, their goal for this flagship store was to provide a space which encourages their community to participate in creative activities, inspire youth culture and give back to organisations that support such creative expression.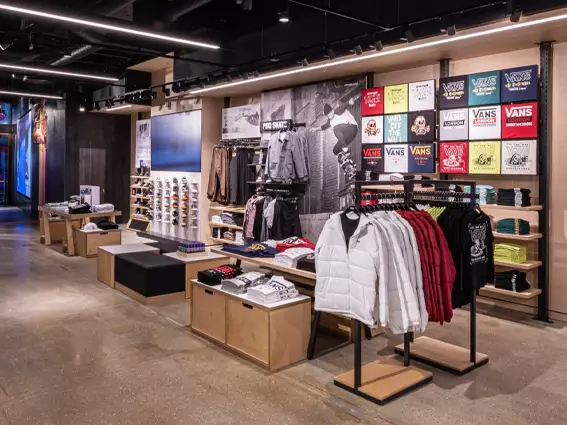 CUSTOM MUSIC
A bespoke, globally aligned, music playlist is broadcasted within the store, specifically designed upon the VANS's consumer profile: authentic and off the wall.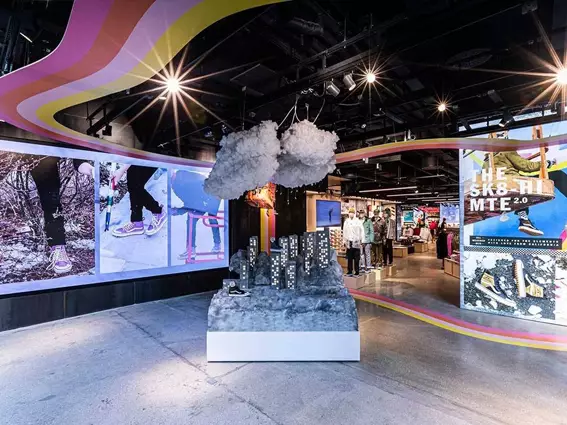 DIGITAL SIGNAGE
Mood installed high brightness, outdoor LED (3x3m) for the store window with the aim of attracting customers, and a number of indoor LED walls to provide the ultimate WOW-factor experience when in the store, including a large 98" display screen to draw attention to the main store attraction: the footwear wall.
All content is scheduled and played via Mood Media's proprietary signage platform: Harmony.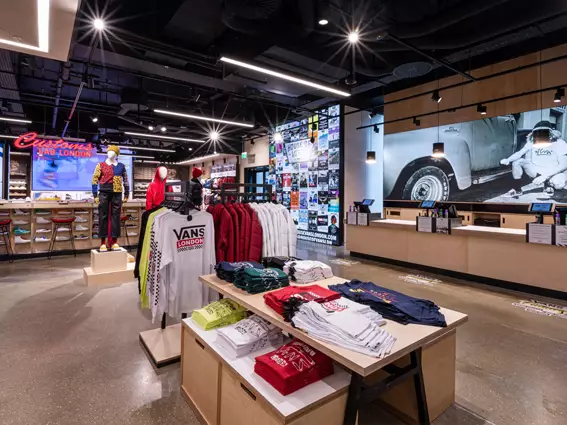 SYSTEMS
In order to provide an authentic and relaxed soundscape for Vans, Mood installed a Bose audio system, consisting of RoomMatch loudspeakers with full range quality, in combination with additional subwoofers, for a premium in-store sound experience.
Networked amplifiers, sound / zone controllers, LED processors and control PC were also implemented. Mood has full remote access to all hardware within the store, allowing us to perform remote management in case of any maintenance requests in a much more sustainable and operationally efficient manner.
RESULTS
The result of Mood's complete audiovisual solution is a fully immersive brand experience for the Vans consumer. The soundscape and visual elements provide a cohesive and authentic Vans experience which reflects the store's regular workshops, personalised services and dedication to the brand's loyal community.
ELEVATE THE CUSTOMER EXPERIENCE
Elevate the experience and get the peace of mind you deserve with Mood. Contact us today to learn more.
"*" indicates required fields