OVER
VANS
Onder de paraplu van VF Corporation is Vans het originele bedrijf voor sportieve schoenen, geworteld in authenticiteit en creativiteit. Het merk werd opgericht in 1966 en heeft sindsdien een grote invloed uitgeoefend op de gemeenschap via vier pijlers: actiesport, muziek, kunst en straatcultuur.
In het kader van het wereldwijde merkinitiatief om de brick-and-mortar klantbeleving te vernieuwen, opende het streetwear merk Vans een 4,714 sq. ft store in het hart van Oxford Street, Londen – nu de grootste winkel van het merk in Europa.
SAMENVATTING
Muziek afspeellijsten exclusief samengesteld voor het merk
Reeks van high brightness en indoor geïnstalleerde LED-walls
Grote beeldschermen in de winkel
Volledige toegang tot alle geïmplementeerde hardware in de winkel op afstand
Bose RoomMatch geluidssysteem
DOELSTELLING
Met een focus op creativiteit, individualiteit, inclusiviteit, experimenteren en transparantie, allemaal belangrijke waarden voor het merk, was hun doel voor deze flagship store een ruimte te bieden die hun gemeenschap aanmoedigt deel te nemen aan creatieve activiteiten, de jeugdcultuur te inspireren en iets terug te geven aan organisaties die dergelijke creatieve expressie ondersteunen.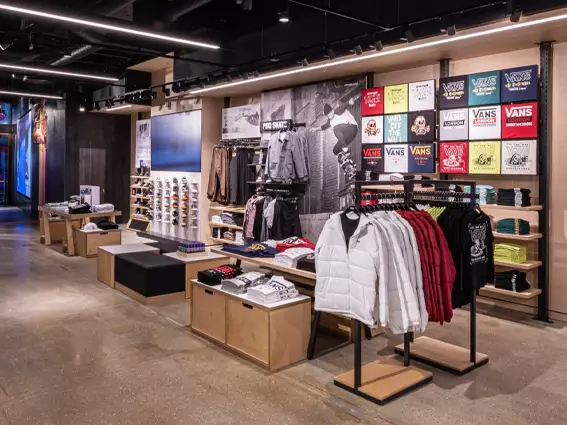 MUZIEK OP MAAT
Een op maat gemaakte, wereldwijd afgestemde, playlist wordt in de winkel afgespeeld, speciaal ontworpen op het VANS consumentenprofiel: authentiek en "off the wall".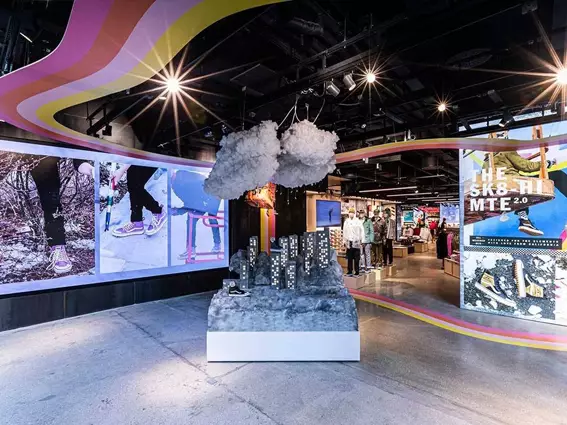 DIGITAL SIGNAGE
Mood installeerde zeer heldere outdoor LED's (3x3m) voor de etalage met als doel klanten aan te trekken, en een aantal indoor LED walls om de ultieme WOW-factor ervaring te bieden wanneer men in de winkel is, inclusief een groot 98″ scherm om de aandacht te vestigen op de hoofdattractie van de winkel: de schoenenmuur.
Alle content wordt gescheduled en afgespeeld via het eigen platform van Mood Media: Harmony.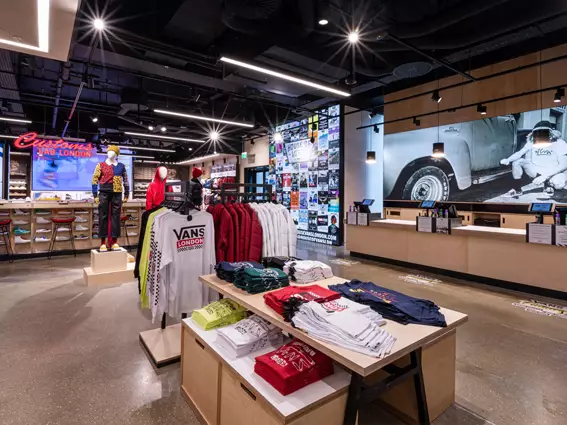 SYSTEMEN
Om een authentieke en ontspannen soundscape voor Vans te creëren, installeerde Mood een Bose-audiosysteem, bestaande uit RoomMatch-luidsprekers met een volledig bereik, in combinatie met extra subwoofers, voor een eersteklas geluidsbeleving in de winkel.
Er werden ook netwerkversterkers, geluids-/zonecontrollers, LED-processors en een besturings-PC geïmplementeerd. Mood heeft volledige toegang op afstand tot alle hardware in de winkel, zodat we bij eventuele onderhoudsverzoeken op een veel duurzamere en operationeel efficiëntere manier beheer op afstand kunnen uitvoeren.
RESULTATEN
Het resultaat van Mood's complete audiovisuele oplossing is een volledig meeslepende merkbeleving voor de Vans-consument. De soundscape en visuele elementen zorgen voor een samenhangende en authentieke Vans-ervaring die de regelmatige workshops, de gepersonaliseerde diensten en de toewijding aan de trouwe Vans-gemeenschap van de winkel weerspiegelt.
ELEVATE THE CUSTOMER EXPERIENCE
Verbeter de beleving en krijg de gemoedsrust die je verdient met Mood. Neem vandaag nog contact met ons op voor meer informatie.
"*" indicates required fields