Maak contact met je klanten. Verbeter resultaten met audio advertising.
Elke seconde dat je klanten in jouw zaak zijn, is een kans op succes. Mis de kans niet om contact te maken en laat je merkstem horen. Ontwerp en voer een doelgerichte messaging-strategie uit en haal het beste uit elk moment met In-Store Messaging van Mood.
"Als je in-store commercials wilt die echt resultaten opleveren, ga dan met Mood in zee. Je zult niet teleurgesteld zijn."
– Michelle Coalson, Retail Marketing Planner II Cabela's
HOE HET WERKT
Of je nu de meest recente aanbiedingen onder de aandacht wilt brengen of een sfeer wilt neerzetten die jouw merkwaarden versterkt, Mood ontwerpt messaging services die op een buitengewone manier contact maakt met jouw klanten.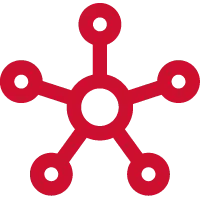 #1 Samenwerking
Ons voltallige creative team werkt met je samen aan jouw productie via onze gebruiksvriendelijke online portal: Voice Design.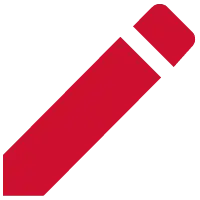 #2 Ontwerpen
Onze copywriters schrijven jouw script, vervolgens zorgen onze voice-over talenten en audio engineers voor een strak klinkend resultaat.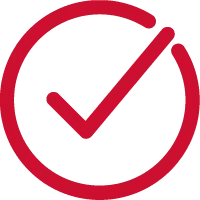 #3 Goedkeuren
Voordat we de opnames geheel afwerken word je via e-mail uitgenodigd om op Voice Design in te loggen en jouw nieuwe berichten te beluisteren. Hier kun je jouw goedkeuring geven of desgewenst wijzigingen aanvragen.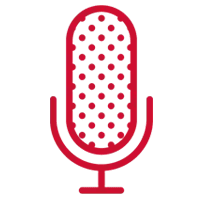 #4 Productie
Na goedkeuring worden jouw berichten geproduceerd en opgeleverd door ons Brand Messaging Team. Zo eenvoudig is het.
van de shoppers neemt ongeplande aankoopbeslissingen in de winkel -- POPAI
van de shoppers zegt dat In-Store Commercials hun aankoopbeslissingen beïnvloeden -- POPAI
van de shoppers vindt audio promoties in de winkel nuttig voor hun ervaring - Arbitron
IN-STORE MESSAGING
VOORDELEN & TECHNOLOGIE
VOORDELEN
Verwelkom je klanten
Promoot producten en diensten
Informeer over tips en speciale aanbiedingen
Nodig klanten uit om je bedrijf leuk te vinden op Social Media
Integreer met overheadmuziek om een eigen radiozender te maken
TECHNOLOGIE
Levering is mogelijk via internet en satelliet
Berichten naadloos integreren met muziek
Aangepaste planning van berichten via dagdelen
VOICE DESIGN PORTAL
Met ons gebruiksvriendelijke online Voice Design-portaal maken we messaging eenvoudig. In een paar clicks kun je:
Scripts maken en orders indienen
Bestelgeschiedenis bekijken
Voorkeuren voor stemacteur en muziekstijlen beheren
Account instellingen bekijken
Berichten goedkeuren of wijzigingen aanvragen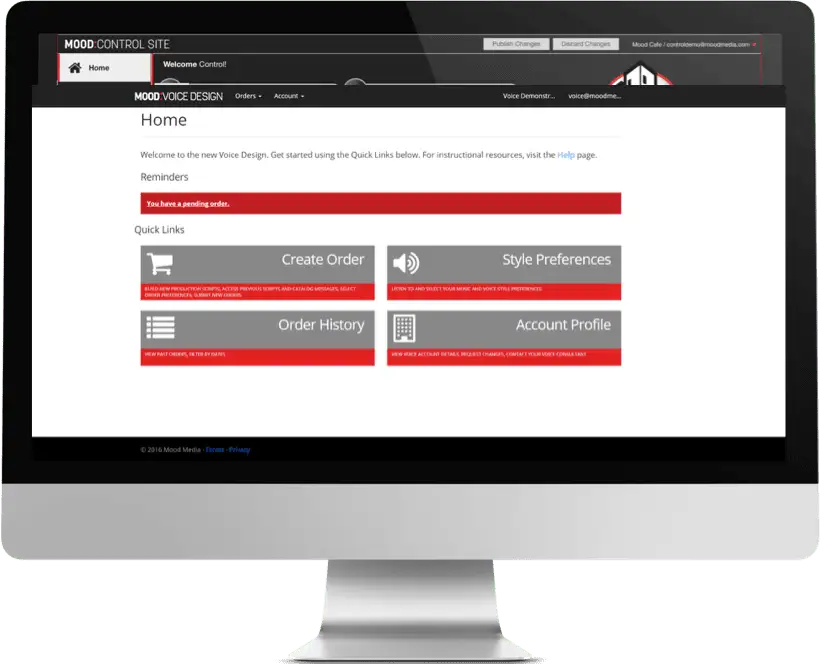 Voorbeelden Audioberichten
Neem contact met ons op voor meer informatie over Mood Geluidsoplossingen
"*" indicates required fields