ENGAGE. INFORMEER.
VERHOOG DE OMZET.
Van gepersonaliseerde digital signage software tot custom content, digitale menuborden, video walls, kiosken en touch-displays. De beeldoplossingen van Mood transformeren hoe klanten naar jouw bedrijf kijken.
Zie het verschil dat Mood kan maken. Neem vandaag nog contact met ons op voor meer informatie.
MOOD
DIGITAL SIGNAGE

MOGELIJKHEDEN
DIGITAL SIGNAGE OP DE WERKPLEK
SCHERMEN VAN COMMERCIËLE KWALITEIT
GEÏNTERESSEERD IN DE DIGITAL SIGNAGE OPLOSSINGEN VAN MOOD?
Vul ons contactformulier in en start je reis
MOOD TV
Elimineer advertenties van concurrenten, vermaak klanten en stimuleer de verkoop. Geef eenvoudig branded content weer, naast populaire, korte televisieprogramma's. Mood TV is de betaalbare oplossing die je de controle geeft.
DIGITALE MENUBORDEN
Mood biedt een breed scala aan digital signage software-oplossingen, inclusief digitale menuborden met bekroonde graphics en CGI-animatie die je menu tot leven laten komen voor klanten. Dynamische displays promoten add-ons met hoge marges, tonen seizoensartikelen en triggeren impulsaankopen voor een maximale ROI. Klik hieronder om meer te weten te komen over hoe de digitale menuborden van Mood jouw restaurant kunnen helpen om de verkoop te stimuleren en de klantbeleving te verbeteren.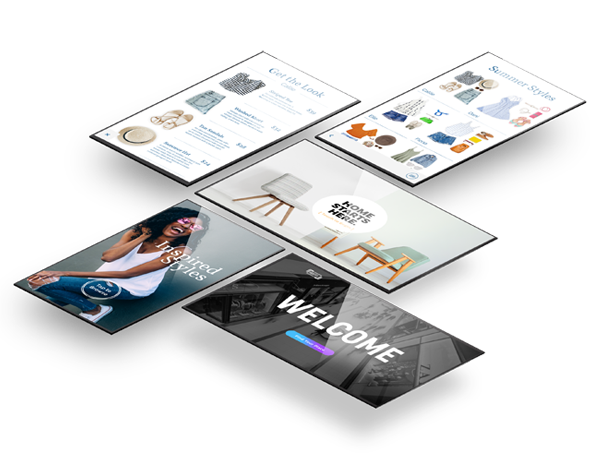 WAAROM MOOD DIGITAL SIGNAGE
Promoot. Informeer. Entertain. De mogelijkheden zijn eindeloos en de resultaten zijn aanzienlijk met digital signage van Mood. We zijn een echte end-to-end provider, van compleet systeemontwerp, software, hardware en content tot service en support. Betrouwbaarheid en gemak zijn nog maar het begin wanneer je samenwerkt met Mood.
MOOD DIGITAL SIGNAGE GEEFT JOU DE CONTROLE
BEST-IN-CLASS OPLOSSINGEN VOOR ELKE SCHAAL
PROFESSIONELE TEMPLATES VOOR ELKE TOEPASSING
FULL-SERVICE CONTENT ONTWIKKELING EN MANAGEMENT
GEBRUIKSVRIENDELIJKE DIGITAL SIGNAGE SOFTWARE
PROFESSIONEEL DESIGN, INSTALLATIE EN SERVICE
MAAK JE KLANTEN BLIJ MET DE BEST-IN-CLASS GRAPHICS
PAS FLEXIBELE TEMPLATE CONFIGURATIES TOE
EENVOUDIG BRANDED CONTENT UPLOADEN EN PUBLICEREN
GENIETEN VAN DESKUNDIG ADVIES EN ONDERSTEUNING
HOE HET WERKT?
Deze technologie, ook bekend als narrowcasting of beeldschermcommunicatie, is het weergeven van digitale video content of digitale beelden op een scherm. Je hoort het sommige mensen zelfs electric signage noemen. Hoe je het ook noemt, de oplossing biedt een ongelooflijke flexibiliteit en kan een grote impact hebben op je bedrijf.
In plaats van traditionele gedrukte advertenties, menu's, posters of uithangborden, worden de digitale beelden en video's (of "digitale content"), weergegeven op een high-definition scherm, of een reeks schermen.
Content wordt naar het scherm gestuurd vanaf een mediaspeler (of "digital signage player") op dezelfde manier als je decoder thuis op je TV is aangesloten. De mediaspeler slaat de content die wordt aangestuurd door software in de cloud op en die bepaalt hoe de content op het scherm wordt weergegeven. Dat is het in een notendop, maar als je meer informatie wenst, neem dan contact met ons op of lees ons artikel, "Wat is Digital Signage?"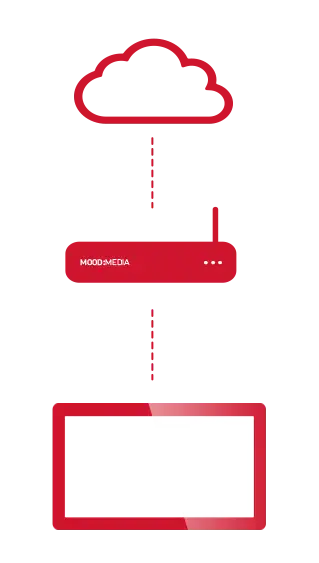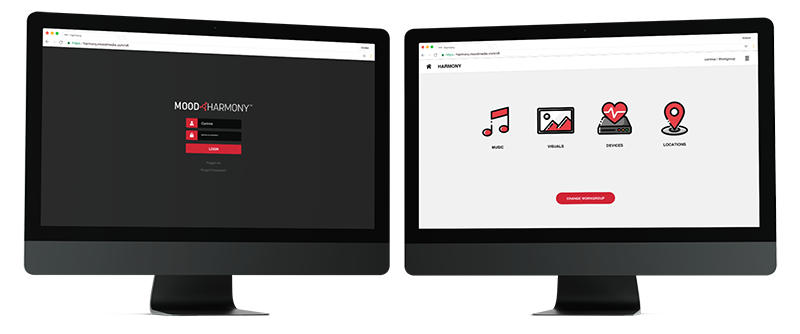 CONTENTBEHEER WAS NOG NOOIT ZO MAKKELIJK
De digital signage software systemen van Mood bieden een online content management platform dat snel, betrouwbaar en gemakkelijk te gebruiken is. Ontwerp content als een pro met behulp van professionele templates. Plan content in en pas het on-the-fly aan, voor een enkele locatie of je gehele keten. Creëer doelgerichte campagnes die krachtige resultaten opleveren.
KOM IN CONTACT MET ONS
Verhoog uw klantbeleving met Mood Media.