DIGITAL SIGNAGE FOR GROCERY STORES
PROMOTE. ENGAGE. SELL MORE.
Distinguish your stores and deliver a world-class shopping experience with Mood Digital Signage for Grocery Stores.
Leverage innovative, scalable technology to captivate your customers and boost sales throughout every store. From menu boards in full-service departments, digital end caps in center store, promotional signage in the perimeter or employee engagement in the backroom, the possibilities are endless when you go digital with Mood.
Intuitive, centralized online control through Mood Harmony™
Schedule and update content instantly at one or multiple locations
Dozens of professionally-designed templates for grocery
In-house content creation and management
Secure and reliable technology
Reduce costs and reliance on print materials, save time
End-to-end solutions: hardware, software, content, screens, installation and service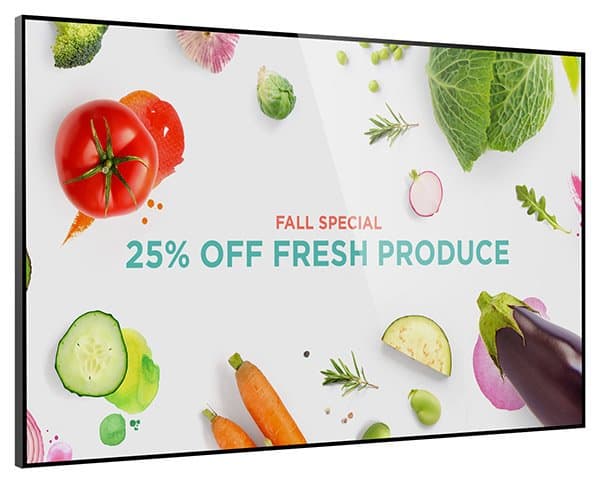 SUPERMARKET DIGITAL SIGNAGE
Engage shoppers in every department with Supermarket Digital Signage. Promote weekly specials, cross-sell within different departments, highlight safety efforts and much more – all while creating a more engaging shopping experience your customers will want to repeat.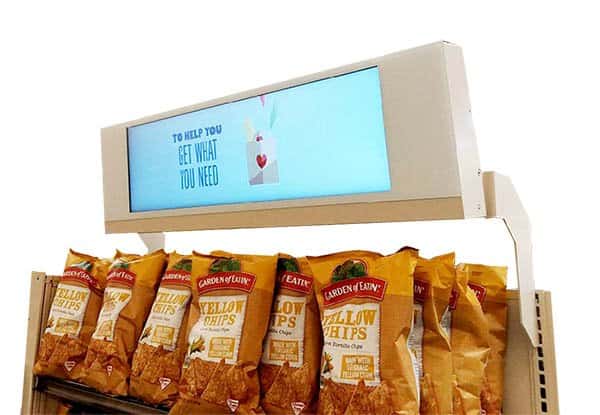 DIGITAL ENDCAPS
Your endcaps are more than just bays for weekly specials – they're an opportunity for tremendous growth throughout your stores. Mood Digital Endcaps make it simple to cross-sell and boost awareness on new and existing products. Maximize every square foot of floor space and embrace the future of grocery.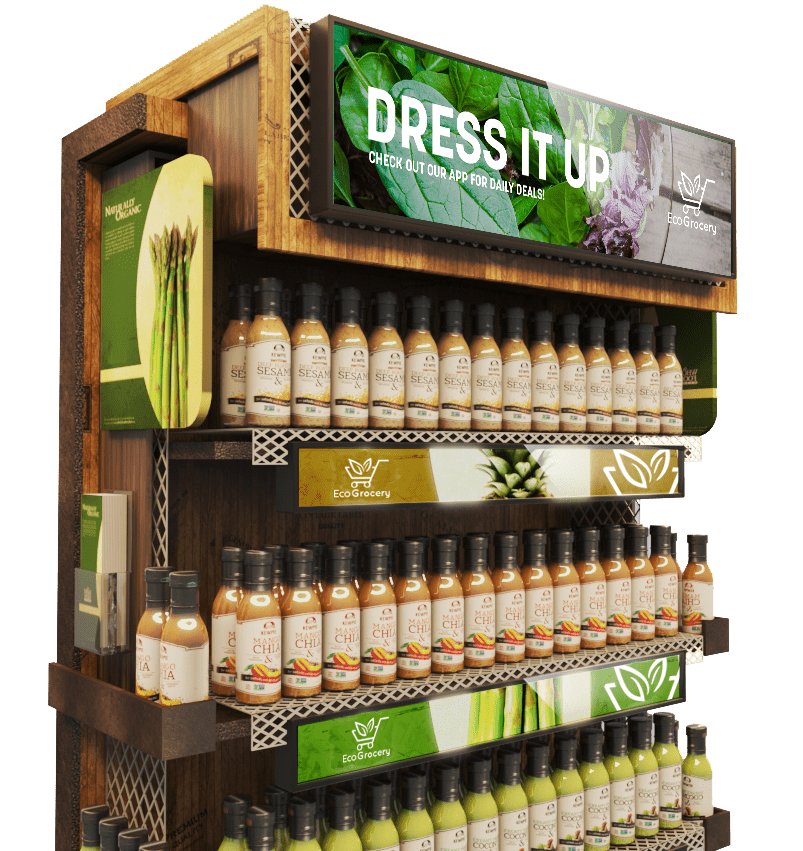 SMART DIGITAL SHELVING
Transform the way you inform and promote with Smart Digital Shelving. This revolutionary technology is built with durable construction and casing, designed to fit any standard 2, 3 or 4 feet retail gondola. Like all Mood Sight Solutions, Digital Shelving is fast and easy to update, enabling you to reduce costs and reliance on print materials.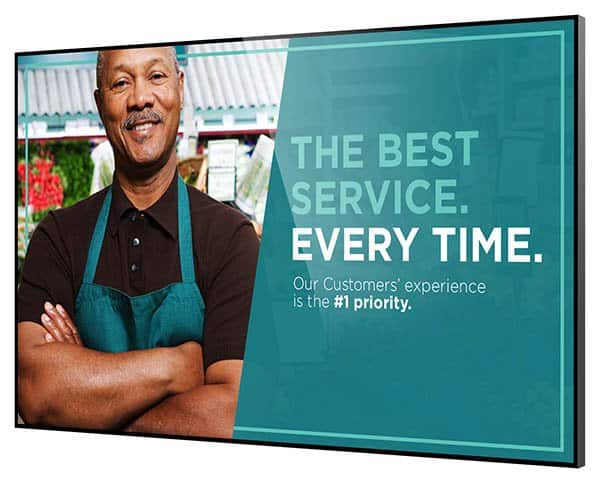 WORKPLACE DIGITAL SIGNAGE
Enhance internal communications and get your employees' attention with Mood Workplace Digital Signage solutions. Recognize a job well done, display job postings and safety tips, share HR information or simply provide quality breakroom entertainment – Mood has you covered with cost-effective solutions that will consistently engage and inform your team.
YOUR CONTENT, COVERED
Bring your vision to life and enjoy complete peace of mind with Mood Content Development services. Our content experts deliver a comprehensive range of creative services, including graphic design, film, motion graphics/animation/3D, and photograph for video, mobile or web applications. Additional capabilities include social media interaction, live content streaming, RSS feeds, touch screens, and more.
We also have a team of specialists who can schedule and manage your content on your behalf. The possibilities are endless with Mood.
COMMERCIAL-GRADE DISPLAYS & MOUNTING
Mood provides and installs high-quality, commercial-grade digital displays and mounting, including innovative software-on-chip (SoC) displays from leading manufacturers. We also offer recommendations on placement and strategy to maximize viewing and drive sales lift.
SERVICE & INSTALLATION
As is the case for all of our media solutions, Mood Sight Solutions are supported by professional service and installation in every U.S. zip code. All of our technicians are in-sourced, and remote support is available in English 7 days a week in the unlikely event of a service issue.

THE BRAND EXPERIENCE PLATFORM
Take full control of the entire Customer Experience across your footprint with Mood Harmony. An intuitive online content management system makes it easy to centrally manage – and monitor – Digital Signage, Music and Messaging at any store location.
The Harmony CMS is supported by the Mood Harmony player – our brand new all-in-one audio & visual media device. Discreet., reliable, and secure, the Harmony player supports of to two zones of audio and visual content. It's designed specifically for business use, available for lease or purchase.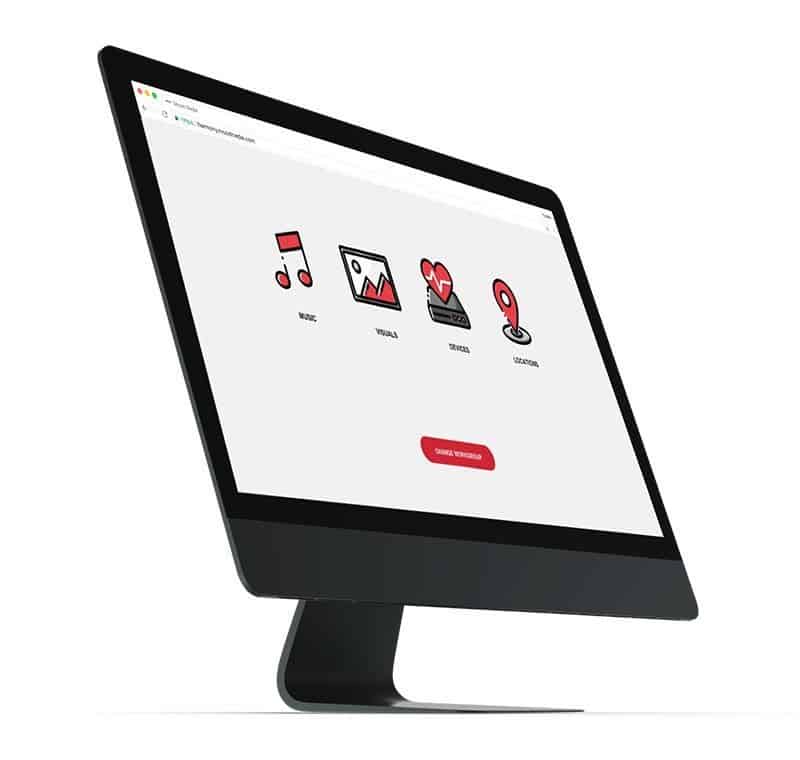 WHY MOOD HARMONY?
Maximum reliability. With the Mood Harmony player, you'll never have to worry about your screens going dark or slow playback due to an internet disruption. If your internet goes down, the Harmony player continues to playback stored content until network connectivity resumes.
Advanced and on-demand content scheduling. Schedule content and campaigns down to the second at any number of locations. You can even apply changes instantly.
Flexibility. Set varying levels of permission for corporate and store-level users. Maintain brand standards while providing flexibility by store and by region.
Simple implementation. No software to install, and the Harmony player is designed for simple plug-and-play installation.
Robust reporting. Quickly access on-demand reporting by location, region or across your footprint.
Vast content library. Choose from dozens of sleek, predesigned templates in multiple layouts, or create your own. Easily upload and store images and videos.
Supports multiple file types. Harmony supports all common HD image and video file types, including HTML5, RSS feeds, live streaming and more.
Expandable storage. From 16 GB to 256 GB of storage, Harmony makes it easy to store a wealth of Music, Messaging, and Digital Signage content.
eBOOK: DIGITAL SIGNAGE FOR NATIONAL & GLOBAL BRANDS
Learn the 7 essentials for executing a scalable digital signage network.
WEBINAR: EXECUTING DIGITAL SIGNAGE AT SCALE
Explore the various implementation and management factors of this technology with two of the world's leading digital signage experts.
WHITEPAPER: THE VALUE OF DIGITAL SIGNAGE DURING COVID-19 & BEYOND
Learn how to effectively leverage digital signage to boost your safety and assurance efforts.
GUIDE: DIGITAL SIGNAGE BEST PRACTICES
Build the right foundation for your signage strategy and execute like a pro.
DIFFERENTIATE YOUR BRAND. BRING CUSTOMERS BACK.
Contact us today to schedule a free, no-risk consultation.
"*" indicates required fields