OVER
MICROSOFT CUSTOMER HUB
Een high-tech kantoor en een gastvrije customer hub, de gehele nieuwe Microsoft Customer Hub in Amsterdam is een klantbeleving op zich. Het biedt een community-omgeving voor de partners en klanten van het merk waar digitale transformaties plaatsvinden, van strategie en ontwerp van de architectuur, tot proof of concept.
De Customer Hub omvat een restaurant, café, auditorium, co-working ruimtes voor partners en klanten, moderne vergaderfaciliteiten, een Customer Experience Center en een educatieve ruimte. Technologie en menselijk welzijn stonden centraal in het nieuwe kantoorontwerp en werden samengebracht door middel van een benadering die zowel zinvol als intuïtief zou zijn, in een natuurlijke, zachte en zeer diverse context die de identiteit en het erfgoed van Microsoft, hun mensen, partners en klanten overbrengt.
SAMENVATTING
De geur van Seaside Driftwood bij de hoofdingang naar de lobby en de uitgang naar de parkeergarage.
Een gevarieerd muziekprogramma in de lobby voor een warm en huiselijk gevoel.
De Alcas Music Master zorgt in het restaurant voor een interactieve muziekbeleving.
DOELSTELLING
Voor hun ultramoderne Customer Hub wilde Microsoft een gastvrije en aantrekkelijke omgeving creëren voor hun personeel, partners en klanten. Tegelijkertijd wilden ze een ruimte creëren die hun twee belangrijkste kernwaarden weerspiegelt: diversiteit en duurzaamheid.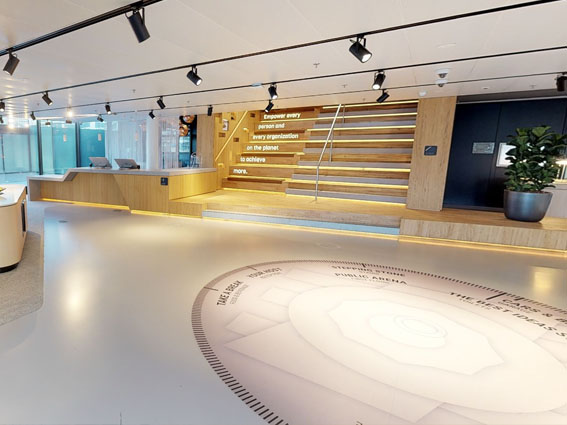 Mood installeerde een geurmarketing oplossing bij de hoofdingang van de Hub en bij de uitgang van de lobby naar de parkeergarage. Bezoekers worden verwelkomd met de geur van Seaside Driftwood, een ontspannend en rustgevend aroma dat een zeebriesje omvat, doorspekt met houtachtige noten van door de zon verwassen drijfhout.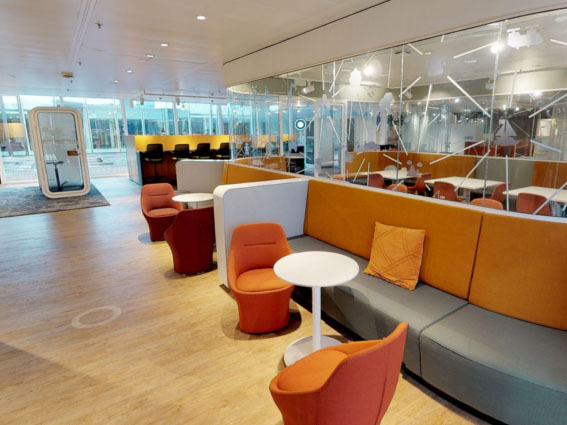 Microsoft wilde dat de muziek in de lobby warm en huiselijk aan zou voelen, maar ook hun belangrijkste waarden zou weerspiegelen. Mood music designers hebben een gevarieerd muziekprogramma samengesteld met een mix van pop, soul en folk invloeden die perfect aansloot bij hun verwachtingen. Dankzij de nieuw geinstalleerde BOSE installatie, aangestuurd door Mood Profusion iH, is de geluidskwaliteit in de lobby fantastisch.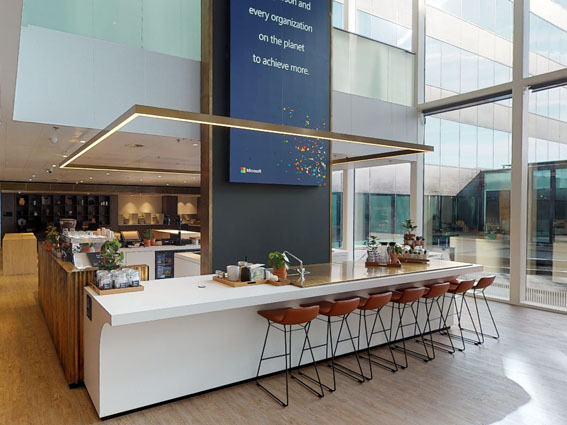 In het restaurant wordt muziek afgespeeld via Mood's Alcas Music Master, een interactieve (online) muziekcomputer die de werknemers de mogelijkheid biedt om de muziek af te stemmen en aan te passen, afhankelijk van de voorkeuren van hun klanten en partners en van het tijdstip of de dag in de week. Eventuele verzoeknummers tijdens de vrijdagmiddagborrel van het bedrijf kunnen gemakkelijk en op een boeiende en leuke manier worden vervuld!
RESULTS
"By using scent marketing in the main entrance, our guests and employees enter the hub feeling relaxed and calm, reflecting exactly the atmosphere we wish to evoke at Microsoft.
The background music also makes people happier, and offers a social yet homely feeling to both the lobby and restaurant."
– Gea de Bruijne
Hospitality Manager for Real Estate & Facilities, Microsoft Schiphol – The Netherlands
KOM IN CONTACT MET ONS
Verbeter je klantbeleving. Neem vandaag nog contact met ons op.
"*" indicates required fields