HOOGTEPUNTEN UIT ISE 2023
: TRENDS, TECHNOLOGIE & INNOVATIES
Nu de deuren sluiten van weer een fantastisch ISE-evenement, staan we stil bij de hoogtepunten.
Dit was het derde jaar voor ISE in haar nieuwe thuisbasis in Barcelona, en wat een jaar was het. Met 58.107 unieke bezoekers uit 155 landen, waaronder een bezoek van de koning van Spanje, was de opkomst 33% hoger dan vorig jaar na de terugkeer van COOVID. De levendigheid van Barcelona met zijn gastvrijheid, prachtige architectuur en stralende zon (zelfs begin februari) is ontegenzeggelijk een fantastisch decor geworden voor 's werelds toonaangevende AV- en systeemintegratiebeurs.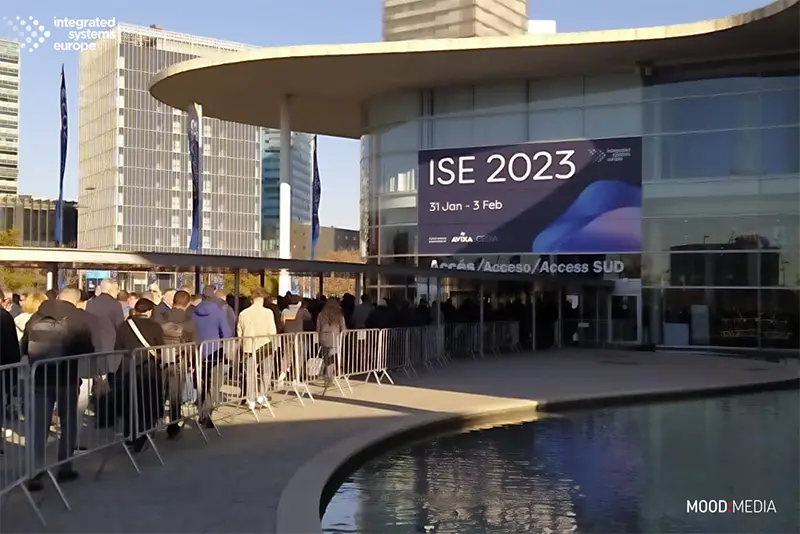 Nu de deuren sluiten van weer een fantastisch jaar op ISE, staan we stil bij de opkomende trends, nieuwste technologie en meest inspirerende innovaties die we in de hallen hebben gezien.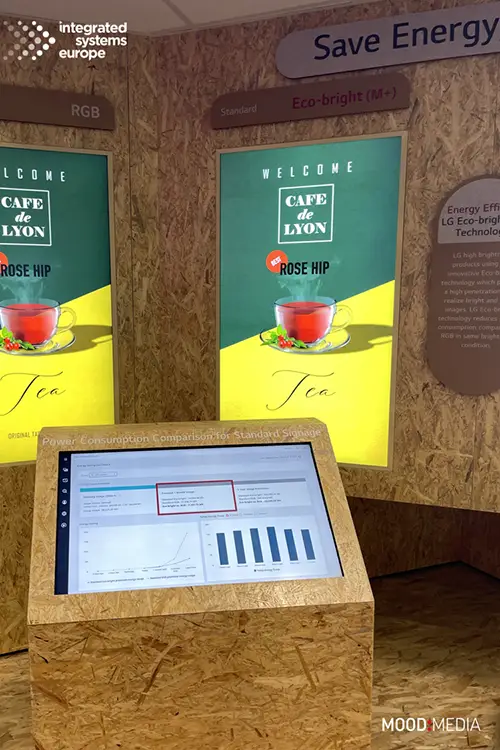 It Pays to Go Green
Talk of green signage is not something new in the world of AV however, seeing suppliers and subsequently brands putting such talk into action, is. What was striking from this year's event was the sheer amount of information, campaigns and product offerings dedicated to sustainability and what it means and what it takes to be green in a notoriously not-so-green industry.
In 2022, Jonathan Wharrad, VP Global Brand Experience, Advanced Solutions Group here at Mood spoke as part of the DSS ISE panel on the topic of sustainability in signage and its accelerating move to becoming a non-negotiable. And as Jonathan expressed, for integrators like Mood Media, it all comes down to collaboration with experienced partners who are taking the subject seriously and creating products which meet the consumer's ever-evolving demands.
Walking through the halls this year, there was an overwhelming sense that green signage has now become fully rooted as said, non-negotiable. Samsung's entire facade to their registered attendees-only booth was covered in sustainability pledges, promises and proof of their eco-conscious efforts in tackling product life-cycles and reaching zero-net emissions. LG's approach focused on the benefits for the consumer, with touchscreens embedded into chipboard covered displays showcasing energy saving dashboards based on energy usage that all LG customers will have access to.
Meanwhile DynaScan's range of high brightness displays proved that bigger and brighter doesn't have to equate to less energy efficiency. In fact, when comparing watts per nit, DynaScan high brightness displays consume 45% less power than the industry average through the materials used, thermal control, intelligent brightness adjustment, and proprietary algorithms.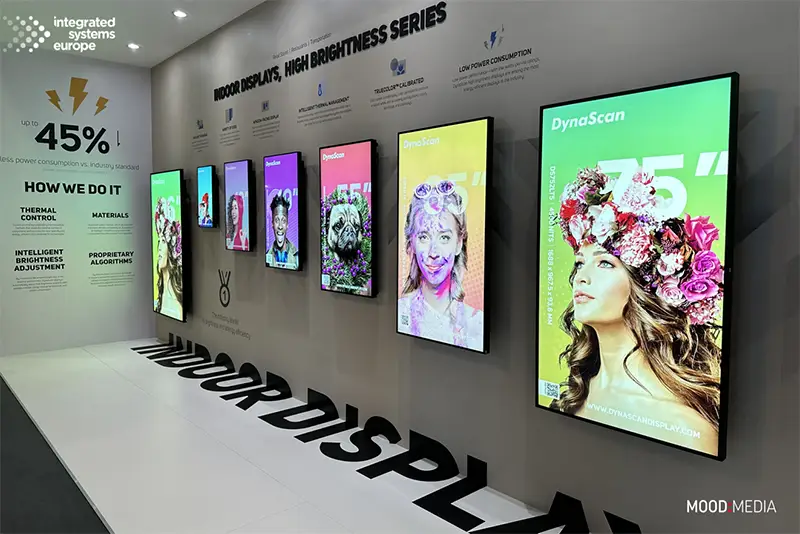 Over at Philips, the highlight was definitely the new e-paper display Philips Tableaux. As the first major manufacturer to bring a digital signage-compatible e-paper solution to market, Philips offers an almost power-free solution. How? The Philips Tableaux consumes almost no electricity when displaying the same content and can run for a very long time without a power supply.
If the content is changed, the screen can be connected to power very briefly in order to continue running for length periods again afterwards. When frequent content changes are necessary, it can remain connected to power and still consume very little power.
Philips sees the Tableaux Displays as being designed in such a way to offer significant power savings to customers with the right needs such as those in restaurant/QSR settings to display menus and or those which require a means of displaying infrequently changing timetables or opening times, as well as making digital signage solutions accessible to establishments without electricity.
Remote Management is the New Content Management
As tech develops, so does the desire for everything to be made quicker, simpler and more efficient, and that is no longer limited to content management. It was clear remote management and performance monitoring would soon become a huge expectation of consumers, and suppliers such as Philips and Powersoft have already made moves to meet such demands.
For Philips, the official launch of PPDS Wave, the brand's cloud-based management platform, took place at their booth this year. To show that Wave is not simply a monitoring tool but rather has multiple control options including energy saving capabilities, Philips presented two displays, each connected to an electricity meter. Wave optimized the energy consumption on one screen, but not the other. After half a day, the power consumption of the Wave display was already little less than half that of its counterpart.
Similarly, world leader in lightweight, energy-efficient pro-audio power amps Powersoft presented the launch of the Powersoft Cloud, Universo, its own remote management system that will allow for remote monitoring, updates, online project storage and remote access to any Powersoft installations, putting an end to lengthy trips to installation sites to perform simple amplifier updates.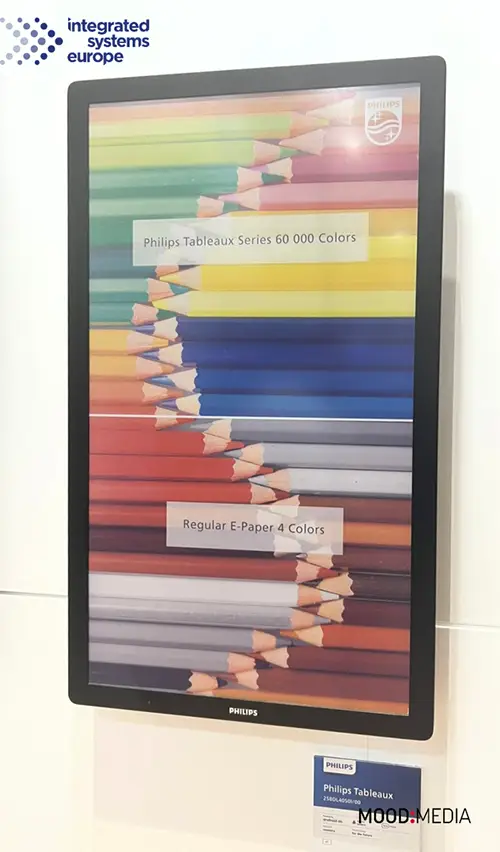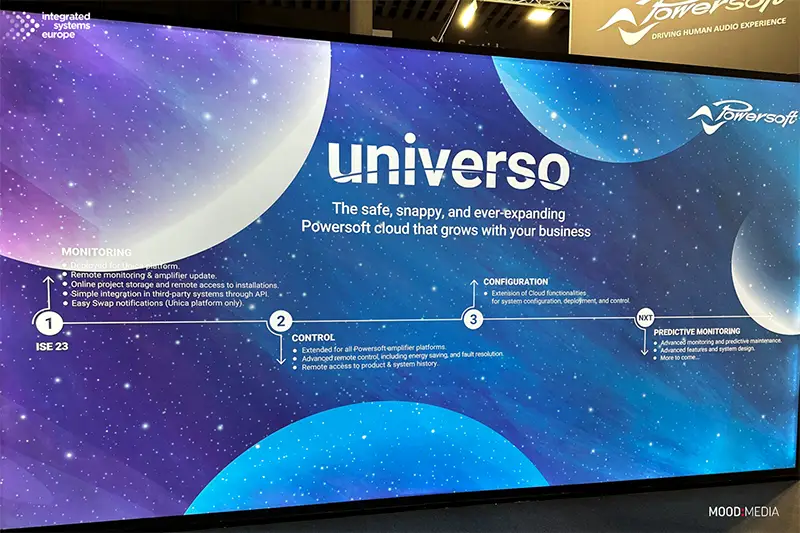 On the subject of improving efficiency and saving time (and costs), our own proprietary CMS platform Mood Harmony recently underwent an upgrade to develop a System-on-Chip (SOC) version that supports Philips Smart TV and Samsung Tizen smart screens, as well as BrightSign OS, thereby eliminating the need for an external media player. This means access to and management of content on screens is now simpler and more cost-effective while improving reliability and reducing deployment costs.
Nieuwe manieren van werken
Een ander belangrijk aandachtspunt op ISE 2023 was natuurlijk de hybride werkervaring. Het valt niet te ontkennen welke impact de pandemie heeft gehad op alle aspecten van het dagelijks leven, maar vooral op de manier waarop we werken. Het traditionele kantoorleven van 9 tot 5 behoort voor de meesten tot het verleden en de term "hybride werken" heeft zijn intrede gedaan in de volkstaal. Maar dat brengt zijn uitdagingen met zich mee: onbetrouwbare technologie, lukrake wi-fi verbindingen en slechte audiovisuele kwaliteit. Wat op de ISE duidelijk was, was dat leveranciers niet alleen vanuit technologisch oogpunt de boel willen redden, maar er ook voor willen zorgen dat de hybride werkervaring een gemeenschap wordt, in plaats van een simpele werkplek, waarbij alle verschillende betrokkenen worden betrokken, waar ze zich ook bevinden.
Sharp/NEC wijdden het grootste deel van hun stand aan het nabootsen van huddle, board en conference rooms om hun nieuwste signage en systeemintegraties (met o.a. Cisco en Microsoft) te tonen, gemaakt om hybride werken gemakkelijker te maken, ongeacht de grootte van de ruimte of de locatie van de deelnemers aan conference calls, efficiënter en zonder haperingen.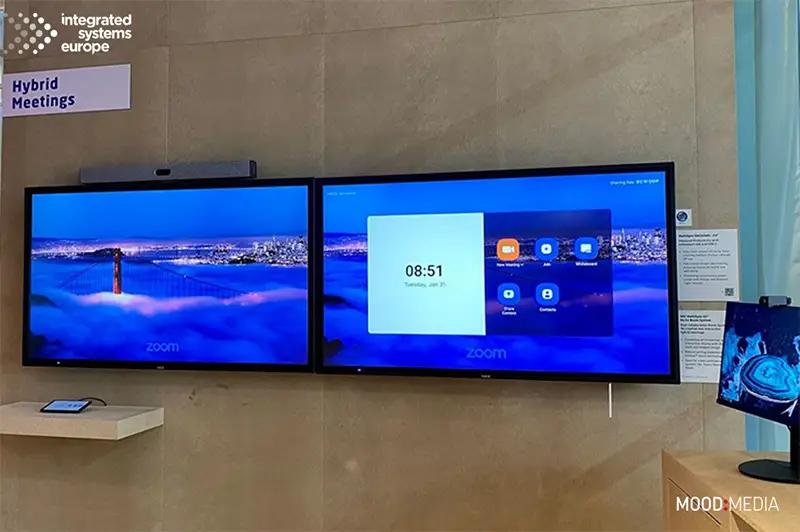 BIAMP-oplossingen waren ook vermeldenswaard. Na de presentatie van de BIAMP Parlé All-In-One Conferencing Bar op de show van vorig jaar, kondigde het bedrijf op ISE 2023 hun nieuwe samenwerking met Lenovo aan voor de levering van de ThinkSmart Core en Controller Kit-gebaseerde oplossingen geconfigureerd voor Microsoft Teams Rooms of Zoom Rooms, waarmee ze zich stevig positioneren als leverancier van complete oplossingen in de wereld van zakelijke IT- en AV-systemen. Op de stand waren ook nieuwe versterkers te zien. Deze kleinere versterkers zijn ontstaan uit de vraag van de consument naar energie-efficiëntere producten en de mogelijkheid om versterkers op meer plaatsen dan alleen in een rek te installeren.
Ervaring eerst
Enkele van de meer theatrale innovaties die werden getoond, bewezen dat er nog steeds plaats is voor ervaringsgerichte oplossingen in de industrie. De EB-PU2220B van Epson, 's werelds kleinste 20.000 lumen laserprojector, maakte indruk met zijn meeslepende bezoekersattractie gericht op locaties zoals galeries, musea en themaparken, terwijl Panasonic er recht tegenover zijn eigen aanbod voor digitale ontmoetingen met kunst presenteerde.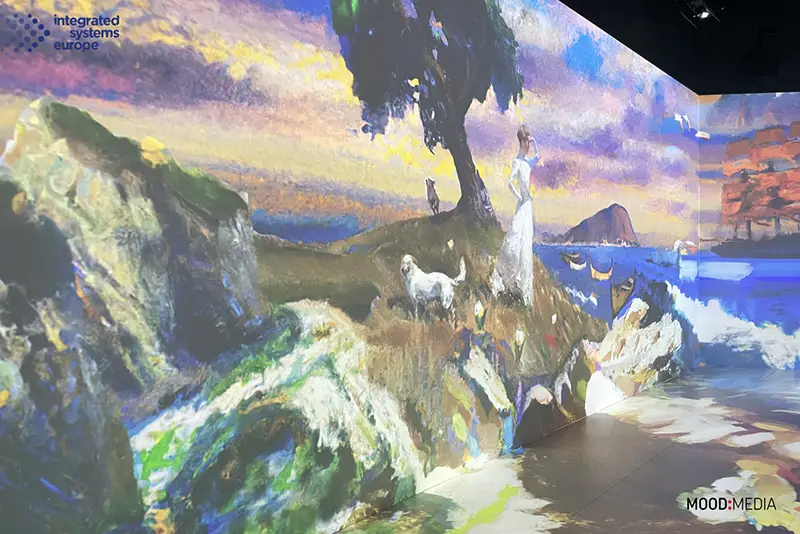 LG maakte van grootschalige glazen schermen mediakunstwerken met hun indrukwekkende reeks geïntegreerde oplossingen. Buiten de stand werden de bezoekers begroet door 272 inch aan prachtige visuals dankzij LG Magnit. De Micro LED-technologie met 0,78 Pixel Pitch biedt 8K ultrahoge definitie en biedt nauwkeurige kleuren, zwarte onderdompeling en levendige details voor alle soorten artistieke digitale inhoud.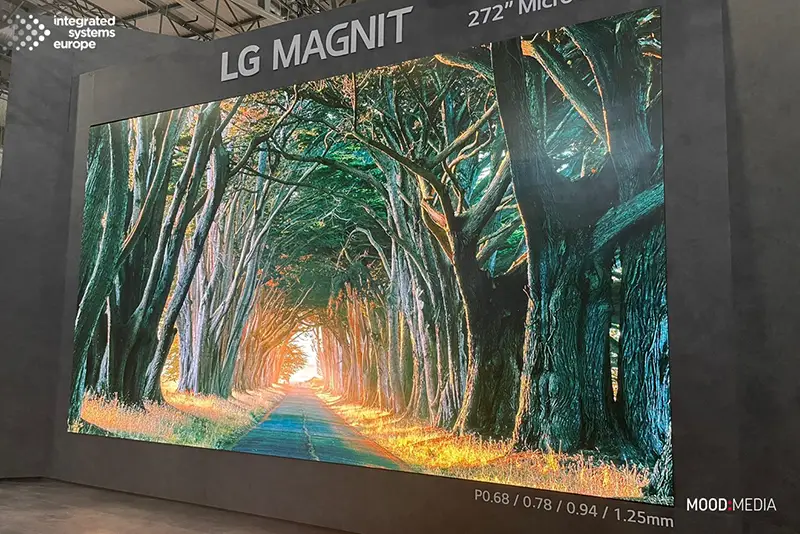 Net om de hoek zorgde LG's iconische Transparent OLED Signage ervoor dat alle ogen gericht waren op de 56 eenheden van 55″ OLED die end-to-end bevestigd waren en prachtige beelden lieten zien die LG's thema van de show 'Life, Be Bloomed' samenvatten.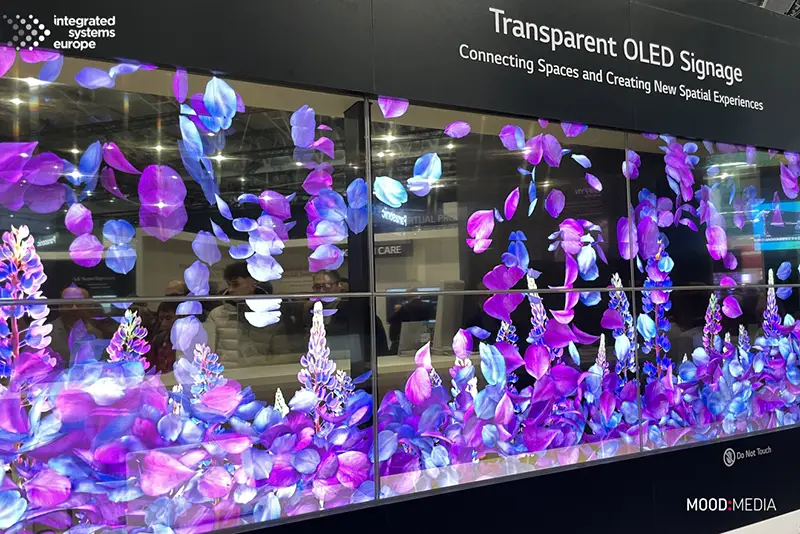 Tot slot vestigde de zwevende LED mediakunstsculptuur CUBE, die centraal op de stand stond, de aandacht op zijn aanwezigheid door het gebruik van krachtige anamorfe inhoud, die de illusie gaf de zwaartekracht en ook de randen van het scherm te tarten! De LG LED displays kunnen worden geïnstalleerd in een hoek van 90 graden, waardoor ze in wezen hoekloos zijn.
In hal 6 gaf de Spaanse startup Newtonlab Space een echte show met The Shop Window, een indrukwekkend holografisch apparaat dat kan worden gebruikt in bijvoorbeeld etalages of onderwijsinstellingen om de kijkervaring naar een heel nieuw niveau te tillen.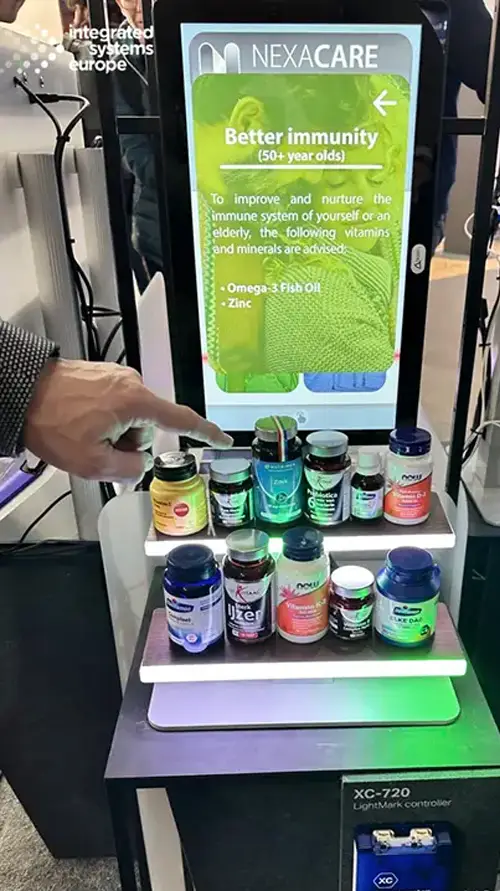 Maar in termen van verbetering van de klantervaring op een meer granulair en dagelijks gebruiksniveau van digital signage, behoorde Nexmosphere tot de heldere sterren van de show. Hun eenvoudige maar innovatieve stand toonde een reeks interactieve oplossingen die perfect zijn voor omgevingen als retail, de vastgoedsector en zelfs de gezondheidszorg. Bewegingsgestuurde sensoren, voorraadtellingsmeldingen via nabijheidssensoren en Lift and Learn RFiD-technologie werden allemaal gepresenteerd, maar nieuw op de ISE van dit jaar waren de handgebarensensensoren. Op camera's gebaseerde sensoren die via glas werken, reageren op handbewegingen zoals omhoog vegen, omlaag vegen en zelfs een duim omhoog waarbij CTA's kunnen worden weergegeven zoals QR-codes of verlanglijstjes.
Van alle modewoorden die in de hallen van ISE 2023 rondgingen, was duurzaamheid zeker het meest terugkerende en wij denken dat dit ook voor de volgende shows het geval zal zijn. Terwijl duurzame praktijken toegepast op digital signage producten van vitaal belang waren om te laten zien, leken de financiële voordelen van groene signage het belangrijkste punt om te bewijzen, aangezien toonaangevende leveranciers de uitdaging aangingen om consumenten te verzekeren dat het op de lange termijn echt loont om groen te gaan.
Spannende innovaties waren aanwezig, zo niet het middelpunt. Net als vorig jaar zaten de meest innovatieve ontwikkelingen van dit jaar in de details, die schijnbaar kleine maar cruciale verbeteringen die technologie slimmer, duurzamer en meer datagestuurd maken. In zijn geheel gezien was de getoonde evolutie indrukwekkend.
KOM IN CONTACT MET ONS
Neem vandaag nog contact met ons op om de beleving in jouw winkels naar een hoger level te brengen.
"*" indicates required fields