OVER
WAGAMAMA
Geïnspireerd door het snelle tempo van Japanse ramenbars en de heerlijke Aziatische keuken, brengt restaurantketen Wagamama de voedzame en verse smaken van Azië en de unieke manier van eten van het continent naar iedereen. Dit was 25 jaar geleden. Twee decennia later blijven ze hun vaardigheden aanscherpen, hun recepten verfijnen, spelen met kruiden en unieke smaken ontdekken.
Mood is er trots op door Wagamama te zijn toevertrouwd om ontzagwekkende visuals te creëren die de essentie van het speelse karakter van het merk vastleggen en voetgangers aantrekken naar drie van hun luchthavenrestaurants in zowel Londen Gatwick als Londen Heathrow.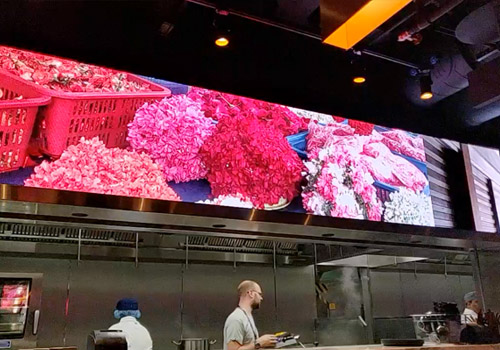 Na een succesvolle visuele installatie in het restaurant van Londen Gatwick, leidde de samenwerking tot nog twee projecten: een grootschalige installatie in Terminal 5 van Londen Heathrow met LED's van 21 m x 2 m en LED-schermen in het restaurant van Terminal 3. Met een pixelafstand van slechts 6,25 mm is de beeldkwaliteit van deze schermen van een uitmuntend niveau en biedt ze naadloze content-integratie.
Voor de T5 hotspot creëerde Mood een naadloze LED-installatie, bestaande uit 68 verschillende tegels, zodat alle Wagamama-content vloeiend en ononderbroken kan worden afgespeeld.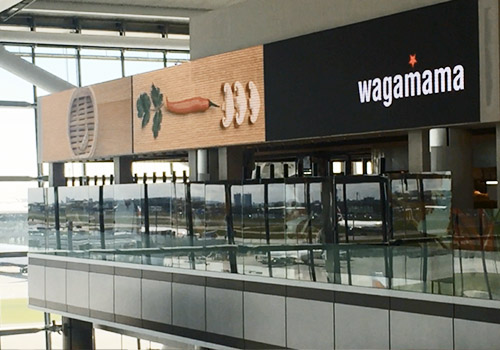 Met meer dan 200.000 passagiers die elke dag alleen al Londen Gatwick passeren, is de omvang van de bezoekersaantallen op de luchthavenlocaties van Wagamama indrukwekkend. Met dit in gedachten is er gewoon geen ruimte voor hun technologie en content om ooit uit te vallen. Mood Media heeft de tijd genomen om een onderhoudsovereenkomst met Wagamama op te stellen om preventieve maatregelen te nemen en ervoor te zorgen dat alle basiselementen in hun restaurantlocaties regelmatig worden schoongemaakt om te voorkomen dat er zich stof ophoopt in de elektronica. Dankzij deze overeenkomst kan het merk er zeker van zijn dat dergelijke belangrijke locaties altijd optimaal worden onderhouden.
Naast de installatie van twee primaire Harmony-spelers voor de linker- en rechterkant van de schermen, heeft Mood ook secundaire spelers geïnstalleerd die als back-up dienen voor het geval er iets met de primaire spelers gebeurt, waardoor het merk opnieuw het vertrouwen krijgt dat hun content altijd in de lucht zal zijn, wat er ook gebeurt.
Op verzoek van Wagamama regelen sensoren in de schermen de helderheid ervan, in overeenstemming met het natuurlijke zonlicht in het restaurant. Dit zorgt er niet alleen voor dat de content op het scherm steeds van de hoogste kwaliteit en vooral leesbaar is, maar het verlengt ook de levensduur van de LED's en helpt minder stroom te verbruiken, wat een duurzamer verbruik mogelijk maakt.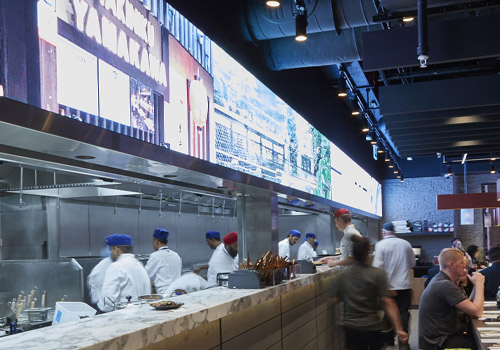 De content in alle restaurants wordt door Mood gescheduled, zodat op bepaalde tijdstippen van de dag verschillende menu's, promoties en eventuele extra informatie kunnen worden weergegeven. Zo kunnen bijvoorbeeld 's morgens ontbijtmenu's worden getoond, 'flagship' gerechten tijdens de lunch en 's avonds grotere gerechten en alcoholische aanbiedingen.
Mood installeerde ook traditionele menuschermen in verschillende groottes, afhankelijk van de behoeften van de locatie.
ELEVATE THE CUSTOMER EXPERIENCE
Elevate the experience and get the peace of mind you deserve with Mood. Contact us today to learn more.
"*" indicates required fields