OVER
LKQ FOURCE
LKQ Fource, onderdeel van LKQ Europe – een dochteronderneming van LKQ Corporation – is actief op de Nederlandse, Belgische en Franse markt met haar Fource-bedrijven CarSys, VanEsch, IPAR, VHIP Belgium, LKQ Belgium en VHIP France. Met toegang tot meer dan 170.000 voorraadreferenties, beschikbaar via 120 vestigingen en ondersteund door 180 groothandelspartners, levert LKQ Fource tienduizenden Automotive producten aan werkplaatsen en groothandels in de hele regio.
De leidende positie van LKQ Fource maakt het mogelijk om snel in te spelen op de snelle ontwikkelingen binnen de automobielindustrie. LKQ Fource heeft ook een samenwerkingsverband met de VROOAM (Full Fource partners), het grootste onafhankelijke netwerk van groothandels in Nederland en België.
LKQ Fource creëert kansen voor autotechnici met hun focus op vier hoofdcategorieën: opleiding en training via de LKQ academy, klantenwerving en -behoud, inrichting en gereedschap en marketing- en werkplaatsconcepten, zoals Vakgarage, Autofirst, James Autoservice, Autobandenpartner en MOOBI.
SAMENVATTING
Aangepaste inhoudssjablonen om opleiding van personeel, verkoop, betrokkenheid van werknemers en meer te vergemakkelijken.
Schermen geïnstalleerd op meer dan 650 locaties.
Content management systeem voor efficiënte content updates op alle locaties.
DOELSTELLING
Met meer dan 100 vestigingen was LKQ Fource op zoek naar een narrowcasting oplossing om de interne communicatie binnen de organisatie te ondersteunen. LKQ Fource ondersteunt ook de Full Fource partners en hun workshopconcepten met Narrowcasting om hun marketingcommunicatie te verbeteren. Daarom moest er een sjabloon worden ontworpen dat er qua lay-out voor elk merk hetzelfde uitzag, maar met de styling van elk afzonderlijk merk en met ruimte voor variërende inhoud per merk – en per locatie.
CONTENTSJABLONEN
Het Creative Team van Moodontwierp een template waarmee on-demand training kan worden gegeven aan alle medewerkers, voor alle merken in het portfolio van LKQ Fource. Er is ook een optie om belangrijke informatie te delen met alle medewerkers via een livestream.
Het team ontwierp ook een speciale feed waarmee inhoud van andere websites kan worden gehaald, zoals klantbeoordelingen. Een andere template faciliteert de verkoop van gebruikte auto's en tips over bandencontroles, zomer- en winterinspecties, APK's, enz., terwijl een andere garage lokale content kan uploaden en afspelen, zoals foto's van een personeelsuitje of medewerker van de week – allemaal in de individuele merkstijl van de garage zelf.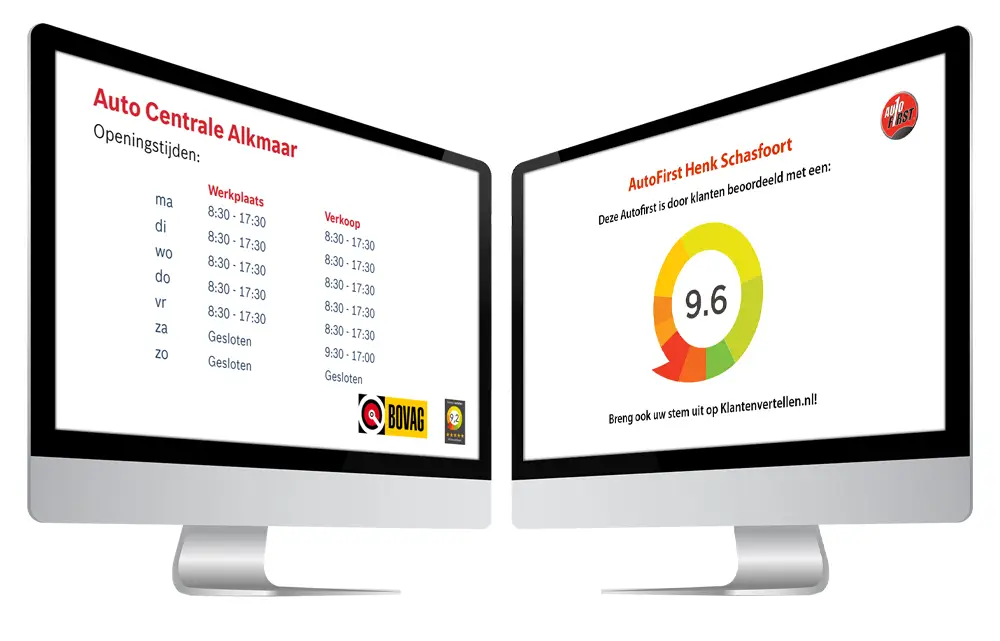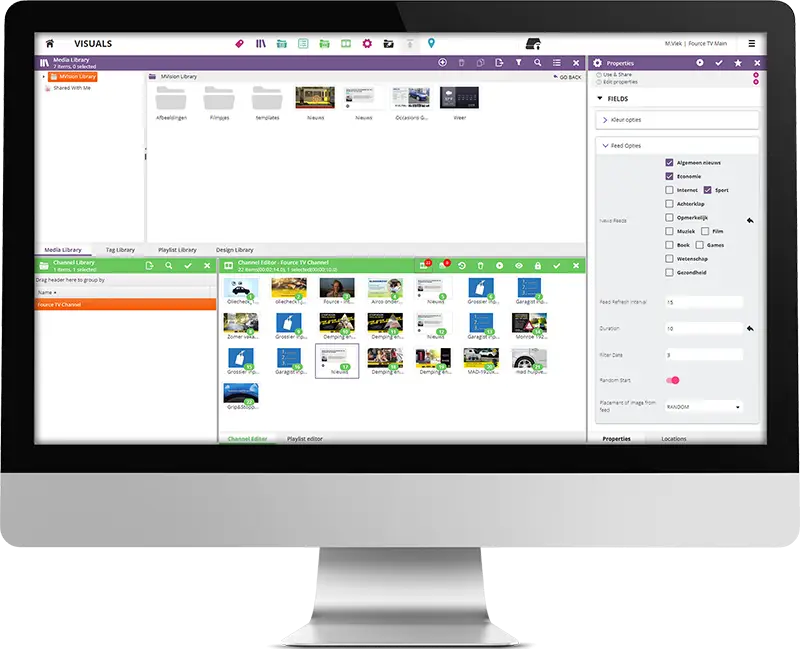 SOFTWARE VOOR INHOUDSBEHEER
Mood's eigen content management systeem, Harmony, werd geïntroduceerd in alle LKQ Fource locaties om efficiënte en flexibele content updates mogelijk te maken op alle schermen, voor alle merken. Met het intuïtieve online portaal kan elke garagehouder de inhoud (binnen de schermwraps) met een paar eenvoudige klikken aanpassen.
DIGITAL SIGNAGE
Mood installeerde ook alle hardware monitors op de LKQ Fource locaties.

ELEVATE THE CUSTOMER EXPERIENCE
Verbeter de beleving en krijg de gemoedsrust die je verdient met Mood. Neem vandaag nog contact met ons op voor meer informatie.
"*" indicates required fields